Regional New York magazine profiles theatre professor
The design profile of Czerton Lim has no doubt been raised several notches, thanks to a complimentary art profile of the associate professor of theatre published in the May/June issue of Central New York Magazine.
"Making a Scene," the article's straightforward title, sets the tone, explaining that Mr. Lim's magic creations start with a sketchpad, Google searches and "3 a.m. epiphanies." It goes on to describe how Lim sees himself not as an artist, but as a designer, whose primary role is as a problem solver.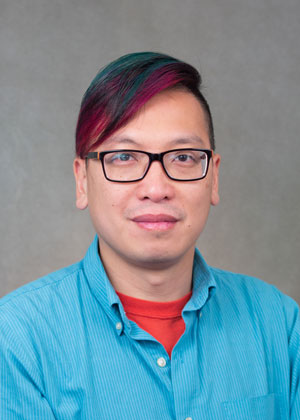 The author of the two-page profile, Matthew Nerber, a graduate student in the Newhouse School of Public Communications at Syracuse University, goes on summarize Lim's two decades spent designing sets for theatre productions in central New York. His work in "Elf," at Syracuse Stage, the professional theatre company in residence at Syracuse University, won a SALT Award.
How Lim had to reinvent his playbook due to COVID-19 restrictions that caused theatres to reschedule or cancel seasons is also examined. In fact, Lim designed Lanford Wilson's "Talley's Folly" knowing that it would be filmed and then shown online, never seen by a live audience.
The camera is both more and less observant than the human eye, and it can pick up on the thing that the designer is trying to hide from the audience, the profile explained. Lim is excited to bring such lessons back to his students.
Photographs of two scenes from "Talley's Folly," cardboard models of the sets for "Talley's Folly" and "Beauty and the Beast" and a scene from "Elf," all from Syracuse Stage, accompanied the profile.
Lim's early years are traced, from emigrating to Brooklyn from the Philippines to how a chance visit to a high school auditorium ultimately shifted his educational focus from pre-med to the theatre. He earned degrees in biology and theatre at William & Mary and began work as a scenic painter before receiving a M.F.A. in Scenic Design from the University of Washington and doing freelance work in New York City.
Outside of the academic year, Mr. Nerber writes that Lim has made a career out of solving design problems for big musicals throughout Central New York. (He will next be working on the Walter Gloor Mainstage Series productions of "The Wild Party" and "The Normal Heart" with design students in the Theatrical Production and Design B.F.A. program, and returning to Syracuse Stage for its holiday production of "Matilda the Musical" in November.)
Lim's magazine profile can be viewed online.
Central New York Magazine is an upscale publication based in Syracuse that explores the people, businesses, places and initiatives that enhance life in the region.