Ribbon-cutting for College Lodge Forest completed
Earlier this spring, the Western New York Land Conservancy officially purchased the College Lodge Forest.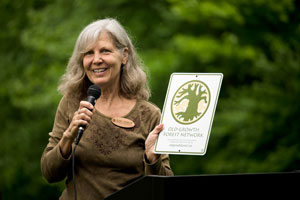 A ceremonial ribbon-cutting for the forest was held May 27. Among the guests were Joan Maloof, executive director of the Old-Growth Forest Network, who dedicated the College Lodge Forest as the newest member of that prestigious network. The ribbon-cutting was followed by a walk to the stand of old growth.
The Faculty Student Association will continue to own and operate the College Lodge and the surrounding 33 acres.