Russell named January/February RA of the Month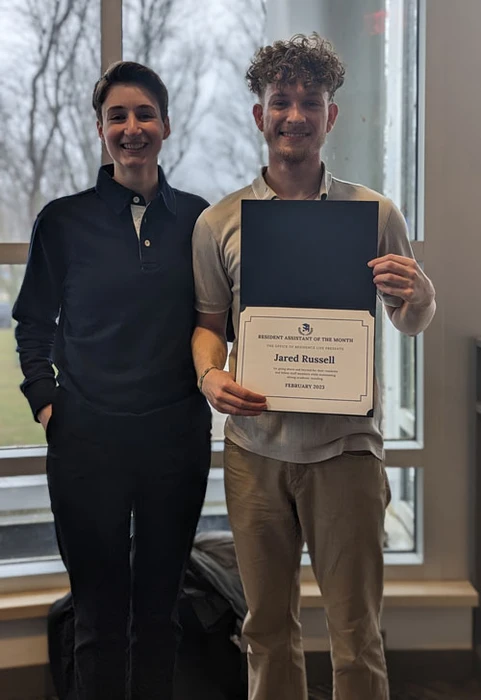 Jared Russell, a fourth semester Resident Assistant in Eisenhower Hall, has been named RA of the Month for January/February by the Office of Residence Life at SUNY Fredonia.
Jared, a senior, has a double major in Computer Science and Music Performance (saxophone). He is from Moravia, N.Y. He also participates in the Saxophone Ensemble and works for ITS desk support.
"Fredonia never ceases to amaze me because I can always find community here." - Jared Russell
When asked about his favorite thing(s) about Fredonia, Jared said, "Fredonia never ceases to amaze me because I can always find community here. When I switched my major, I found a whole new world of students and friends who shared the same passion for their work and life as I did. Everywhere I went and everything I tried I found motivated people who were driven by what they believed in and never stopped for a second to get it. Starbucks is pretty cool too."
Jared was nominated by Autumn Hobel-Furrer, who is Residence Director of Eisenhower Hall. Autumn's praise of Jared's work included, "Jared is a kind, thoughtful, responsible, and reliable person both in and outside of the RA position. He takes great care in everything he does from academics, to practicing his instrument, to running successful informative programs. Jared is a voice of reason in times of conflict and tension, and he is always looking for a rational solution when assisting residents. Jared cares very much for those around him and continues to create a safe environment for everyone in the Eisenhower community."
Jared had this to say about his future goals: "I endeavor to live deliberately in whatever I find. Whether it be within tech, music, or residence life, I want to make the most of it. I've been dealt an interesting hand and I will play to my fullest potential. If I didn't give it my best shot then it would be a waste. I am mainly interested in software engineering/development. Whatever can allow me to continue to play my saxophone after I graduate."