School of Music alumni nominated for GRAMMY awards
SUNY Fredonia alumnus Randy Merrill, '97, was mastering engineer for six 2023 GRAMMY-nominated entries including Adele's "Easy on Me" and Harry Styles' "As It Was" for Record of the Year.
In addition, Merrill's work on "30" by Adele, "Music Of The Spheres" by Coldplay and "Harry's House" by Styles was recognized with nominations for Album of the Year. Merrill was also nominated as mastering engineer on "Harry's House" for Best Engineered Album, Non-Classical.
Merrill graduated from Falconer Central High School in 1992, went on to study at Jamestown Community College and graduated from Fredonia's Sound Recording Technology program in 1997. To date, he has 21 GRAMMY nominations (including the 2023 nominations) and 6 wins.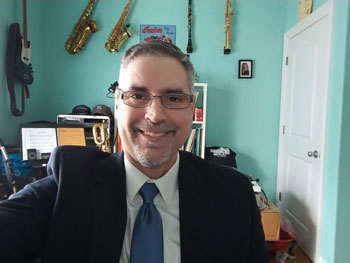 In the classical arena, alumnus Charlie Post, '98, was nominated, along with Shawn Murphy and Gary Rydstrom, as engineers on "Bates: Philharmonia Fantastique – The Making Of The Orchestra," by Edwin Outwater and the Chicago Symphony Orchestra, with a nomination for Best Engineered Album, Classical. Post majored in South Recording Technology and in Music-Applied while at SUNY Fredonia.
Alumnus Vaughn Faison, '15, a Music-Applied major, is a member of the a cappella group, Kings Return, which earned a nomination for its arranger, Matt Cusson, for the tune, "How Deep is Your Love," in the category of Best Arrangement, Instrumental or A Cappella. For a fun look at the group's reaction to the nomination, go online.
The GRAMMY awards will be announced on Feb. 5, 2023.
In addition, Phil Aguglia, '98, who teaches at Kenmore East High School, was named a semifinalist for the 2023 Music Educator of the Year award presented by the Recording Academy and GRAMMY Museum. He earned a Master of Music degree in Music Education from SUNY Fredonia.