School of Music alumni win GRAMMY awards
SUNY Fredonia alumnus Randy Merrill, '97, was the recipient of two GRAMMYs at Sunday's awards event, with alumnus Charlie Post, '98, earning a second GRAMMY to add to his collection. John Kerswell, '88, completed the hat trick of GRAMMY winners.
Merrill was Mastering Engineer for the 2023 GRAMMY Album of the Year, "Harry's House" by Harry Styles. In addition, he won as Mastering Engineer on "Harry's House" for Best Engineered Album, Non-Classical. He is Senior Mastering Engineer at Sterling Sound in Edgewater, N.J.
On Monday, following his win, Merrill told SUNY Fredonia, "I'm so incredibly grateful for everyone who has trusted me with their art. It's truly humbling to work with some of the biggest artists, musicians, producers, and engineers in the world. I'm thankful for the foundation I got through SUNY Fredonia and the SRT program."
Merrill graduated from Falconer Central High School in 1992, went on to study at Jamestown Community College and graduated from Fredonia's Sound Recording Technology program in 1997. To date, he has 21 GRAMMY nominations and eight wins.
Hear Randy Merrill talk about the Best Engineered Album Non-Classical win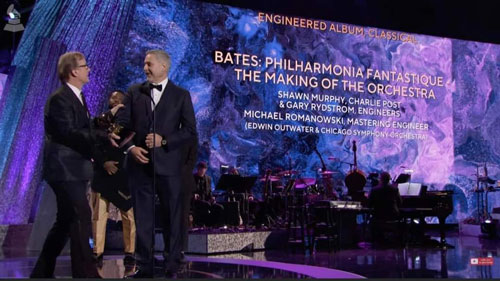 In the classical arena, Post won a GRAMMY, along with Shawn Murphy and Gary Rydstrom, as Engineers, with Michael Romanowski as Master Engineer, on "Bates: Philharmonia Fantastique – The Making Of The Orchestra," by Edwin Outwater and the Chicago Symphony Orchestra, for Best Engineered Album, Classical.
Post majored in Sound Recording Technology and in Music-Applied while at SUNY Fredonia.
Kerswell, another Sound Recording Technology alumnus, was sound engineer on the entry for Best Opera Recording for Terence Blanchard's "Fire Shut Up in My Bones," produced by David Frost for the Metropolitan Opera. 
"We are so proud of Randy, Charlie and John, and we congratulate them on these latest achievements," said Laura Koepke, interim director of the Fredonia School of Music. "These talented individuals represent the best of the Fredonia School of Music and add to the long legacy of alumni accomplishments."