SRT major Zelenak presents research at IEEE workshop
Henry Zelenak, a senior Sound Recording Technology major from Albany with a minor in Computer Science, presented his research project, supervised by Department of Computer and Information Sciences Assistant Professor, Dr. Shahin Mehdipour Ataee, at the IEEE Western New York Image and Signal Processing Workshop.
The workshop was held at the Rochester Institute of Technology in early November.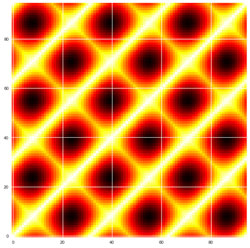 "Identifying Periodic Signal Patterns in Audio Streams" focused on detecting periodic patterns in an audio signal, as a precursor to a novel compression method that would be a cost-effective solution in critical sensor networks in civil infrastructure.
Sensors are a crucial part of modern infrastructure, such as bridges and dams, Mr. Zelenak explained. Many of these sensors are connected wirelessly and run on battery power, but that presents a problem. The sensors produce large amounts of data but lack power to compute or transmit that data to where it can be used.
"This research aims to create a compression method that reduces the amount of data the sensors must transmit, while remaining computationally simple. The essential part of this research involves a novel algorithm that detects when certain signals occur over and over," Zelenak said.
"When this is detected, the compression method may eliminate all but one instance of the signal, thereby reducing the size of the transmission. This is helpful for reducing power demands on critical sensors that keep you safe in your everyday life."
The IEEE workshop serves as a venue to promote image and signal processing research in the local area and to facilitate interaction between academic researchers, industry professionals and students.