Stephen H. Kolison Jr. formally installed as SUNY Fredonia's 14th President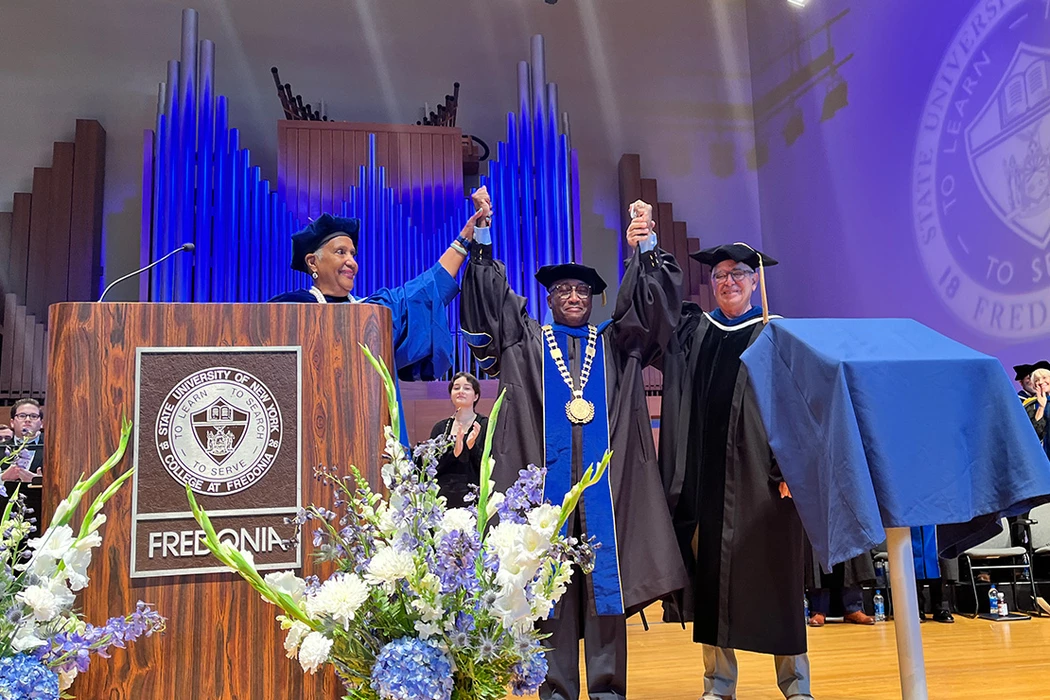 Providing his vision for increased access to higher education for all students, Stephen H. Kolison Jr., Ph.D., was installed as the 14th President of the State University of New York at Fredonia on Sept. 9.
The ceremony, which included musical performances and welcoming remarks from university and local leaders and government officials, was held in King Concert Hall in front of several hundred people, including faculty, staff, students, alumni, community members, representatives from colleges and universities across the country, and family and friends.
Eunice Lewin, a member of the State University of New York Board of Trustees since 2010, represented SUNY at the ceremony and formally installed President Kolison. "It is a great pleasure and privilege for me to be here with you today," said Ms. Lewin. "We are confident that, under your leadership, this institution, pursuing the highest traditions of scholarship and service, will continue its dedication to the state, the nation, and the world."

Emphasizing his theme "Enhancing Student Access and Persistence at the Well of Knowledge, Discovery, and Success," President Kolison underlined the importance of ensuring all students have the opportunity to achieve. "What excites me about this place is the students we educate," said President Kolison. "We educate students from diverse economic backgrounds, especially first-generation students. I believe in the work we do here. We are transforming lives for the better."
President Kolison's compassionate approach toward students was noted by many speakers, including Fredonia College Council Chair Frank Pagano. "His passion for helping students achieve the dream of higher education is unmatched," said Pagano." We are working with someone who truly cares."
President Kolison began his term as President of SUNY Fredonia on Aug. 17, 2020, in the middle of the COVID-19 pandemic, which caused a delay in the traditional investiture ceremony. Ilene Thompson, president of the Student Association and a member of the Class of 2024, noted how President Kolison connected with students immediately upon his arrival. "During the pandemic, he would send us many emails, keeping us updated and wishing us well," Ms. Thompson said. "I think that showed character and his interest in our well-being during that rough time. Dr. Kolison, thank you for doing everything you could have done for us during that time. Your efforts never go unnoticed."
Those thoughts were echoed by Dr. Rob Deemer, professor of Composition in the School of Music, and interim chair of the Department of Theatre and Dance, who represented faculty and staff onstage. "Because we were all ensconced in our homes or our socially-distanced offices during your first two semesters as president, the opportunity for our campus community to interact with you was limited," said Dr. Deemer. "But every week, you reached out to us—keeping us informed and making sure we knew that while we couldn't interact in person, there was someone who thoughtfully guided the campus through those historic days."
The examples of compassion shared onstage were not surprising to President Kolison's family members who attended the ceremony. "We know you will be a wonderful President because you care about people," said Esther Kolison, the President's sister. "You are kind, thoughtful, and treat people with empathy, dignity, integrity, and grace. You are visionary. You work hard, love students, and truly believe in the power of higher education."
President Kolison's belief in the power of higher education, and the university's upcoming bicentennial in 2026, motivated him to create the Bicentennial Fund. "Its goal is to increase the university's capacity to undertake essential efforts to attract and retain students at Fredonia, especially first-generation students and students from low-income backgrounds," said President Kolison.
"Dr. Kolison is taking action. He is doing something by furthering access to higher education for all people, regardless of background. He is a man of action," said keynote speaker Donato J. Tramuto, an American healthcare executive, global health activist, author, and former CEO of Tivity Health. "This great university and your new president are offering the tools for every single student to learn their 'why' and to be the ambassador for change."
"We will focus on his vision to celebrate 200 years of student achievement and enhance student access and persistence at Fredonia," said Fredonia College Foundation Board of Directors Chair Joseph Falcone. "We look forward to partnering with Dr, Kolison to provide strategic, innovative solutions to benefit generations of future Fredonians."
The Bicentennial Fund would support students like France Souneka Charles, a double-major in Economics and Marketing, class of 2023, who shared her thoughts about being a first-generation student. "My story is proof that a higher education is not as simple as a paper degree, it is for myself and many others, a motivation for life and hope for a better and brighter future," said Ms. Charles. "With this in mind, I hope that Fredonia can continue its efforts in providing support for its first-generation university students."
"We are looking forward to the prospect of working with Dr. Kolison to enhance the sense of alumni community and to increase the breadth of involvement and support," said Dr. Greg Gibbs, president of the SUNY Fredonia Alumni Association. "We appreciate his commitment to fostering mutual respect and civility and celebrating diversity in every domain of the university."
Other speakers at the ceremony noted the importance of the university to the greater community. "The incredible asset we have in Fredonia is clear, and for the business community, Fredonia is a critical component to our local success," said Daniel Heitzenrater, a graduate of SUNY Fredonia and President and CEO of the Chautauqua County Chamber of Commerce. "The college educates our future workforce while also helping prepare the community-minded citizens of tomorrow."
"We gather today knowing that this outstanding university is in good hands," said New York State Senator George M. Borrello. "We have great confidence in your ability to lead this distinguished educational institution in exciting new directions. You've already confronted what I hope is the most daunting challenge of your tenure by taking on the role of President in August 2020, in the middle of the pandemic."
"Dr. Kolison started his tenure at an unprecedented and challenging time for higher education when colleges across the nation were online only, and 25 percent of SUNY students were allowed to be on campus. He preserved and successfully led his team to keep students safe and on a path to complete their courses," said SUNY Interim Chancellor Deborah F. Stanley. "I have come to know and admire Dr. Kolison's strategic vision for the institution he leads and his deep devotion to student success. I am pleased to congratulate him on his inauguration and send him and the SUNY Fredonia community my very best wishes as they celebrate this significant event."