SUNY Chancellor King engages with students, faculty during campus visit
SUNY Chancellor John B. King Jr. made the most of a whirlwind tour of the SUNY Fredonia campus on Monday, meeting with students and faculty in three academic buildings – Houghton Hall, the Science Center and Mason Hall – along with Rockefeller Arts Center and its Studio Complex and the Williams Center.
It was Chancellor King's 22nd visit to a SUNY campus since being named SUNY's 15th Chancellor in December. Prior positions he held include president of The Education Trust, a nonprofit that seeks to identify and close opportunity and achievement gaps for students at all levels, and U.S. Secretary of Education in President Barack Obama's Cabinet.
"Here at Fredonia, I've been struck already, talking with students about the great experiences that they've been able to have at a smaller college." - Chancellor John B. King Jr.
"Here at Fredonia, I've been struck already, talking with students about the great experiences that they've been able to have at a smaller college," said Dr. King, who was introduced by Fredonia President Stephen H. Kolison Jr. at a gathering of University Senate members, faculty, staff and administrators in the Kelly Family Auditorium at the conclusion of his tour. Students really appreciate the relationships they have with professors, King remarked, and the attention they receive in the classroom.
King plans draw on feedback from faculty members, students, administrators on his tour of SUNY's 64 campuses and then turn that into action at the system level to better support SUNY campuses. He shared a glimpse of a difficult childhood that he experienced and the critical role that public education had in his young life.
"School was what saved me … School was my safe haven," King told the large gathering at the Kelly auditorium. He was just 12 years old when he had lost his parents, who were both public school educators. King said the role school played in his early years inspired him to also become a public school teacher.
King underscored the importance of the SUNY system in advancing research and scholarship, as well as the significant role that higher education has in promoting economic mobility and economic development. He also recognizes serious enrollment challenges that all colleges are facing. "The health of the economy depends on the health of the Comprehensives," he said, referring to the 14 SUNY campuses that offer both undergraduate and graduate degrees.
Improving the quality of education is inextricably linked to improving the economy and ensuring opportunity for all was a theme underscored by King.
King firmly believes SUNY schools need to make their academic program offerings more nimble or agile in order to address enrollment and economic challenges they're facing, and that means shortening the time it takes to have new academic programs approved at the SUNY and New York Education Department levels. For-profit schools, he acknowledged, are able to put new programs into place much quicker than SUNY schools.
There needs to be a greater public investment in education, King said, meaning that both the state and the federal government need to increase funding levels in higher education. Pell Grants that once accounted for 80 percent of a student's college education cover only 30 percent of that cost today, he said.
King said he recognizes the difficulty of balancing the ability for schools to offer small class sizes and support research within today's economic realities. He likened keeping academic programs strong in the face of financial realities to "threading a needle."
King also emphasized the need to increase student retention, so more students enrolling at SUNY schools complete their degrees.
In a matter of just a few hours, King was introduced to the very broad range of academic programs at SUNY Fredonia, and met and engaged numerous students in conversation in science labs and other locations.
At these visits, King wanted to know what attracted students – as well as professors – to SUNY Fredonia. Several science students described major projects they're working on, explained how sophisticated equipment is making that research possible and shared their long-term educational goals.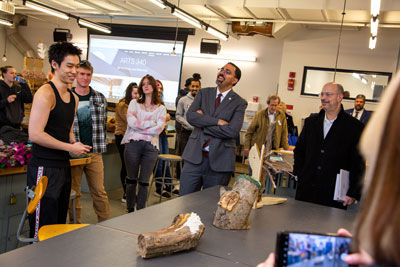 The Chancellor learned that students, such as Chemistry major Brandon Landis, have use of a Bruker Venture single-crystal X-ray diffractometer – a sophisticated device seldom accessible to undergraduate students at other schools. Mr. Landis plans to enroll in a Ph.D. program at Ohio State University.
Students of Department of Biology Associate Professor Scott Ferguson introduced the Leica laser scanning Confocol microscope that allows them to look at the structure of cancer cells. Molecular Genetics Major Colm Roster said he will enter a Ph.D. program in molecular biology and biochemistry at Clemson University and Alex Mathewson, also a Molecular Genetics major, is weighing Ph.D. programs in biomedical science from Case Western Reserve University and the University of Rochester. Both have been awarded fellowships that will fully fund their doctoral studies.
Kasey Crandell, a graduate student in Biology, described how natural science research has helped him to develop academically.
A Physics student cited the ease of transferring academic credits from Jamestown Community College to SUNY Fredonia. King wants to make it easier for students across the SUNY system to be able to transfer credits from one SUNY school to another.
Meeting in the Houghton Hall Collaboratory, Department of Environmental Sciences Assistant Professor Matthew Lanning explained how students are engaging in water research in the Village of Fredonia. Department of Physics Associate Professor Michael Dunham and three of his students – Joe Vargas, Sean Rand and Prince Aziz Hunt – introduced research projects they have underway.
At Mason Hall, King met School of Music Interim Dean Sarah Hamilton and listened to Dylan Jaques rehearse his senior piano recital on the Rosch Recital Hall stage. School of Music Associate Professor Nick Weiser described how the Jazz Studies program has grown to 20 students and noted the success that Fredonia jazz ensembles have achieved at the national level.
King slipped into a rehearsal of the Fredonia College Choir, under the direction of School of Music Assistant Professor Adam Luebke in a large Mason Hall rehearsal space, and the Wind Orchestra, under the direction of School of Music Lecturer Donna Dolson, in King Concert Hall.
A walk through the Studio Complex provided a glimpse of students building sets in the Scene Shop and Paint Shop. Four students being taught by Department of Visual Arts and New Media Associate Professor Peter Tucker in the Sculpture Studio shared how they approach their artwork.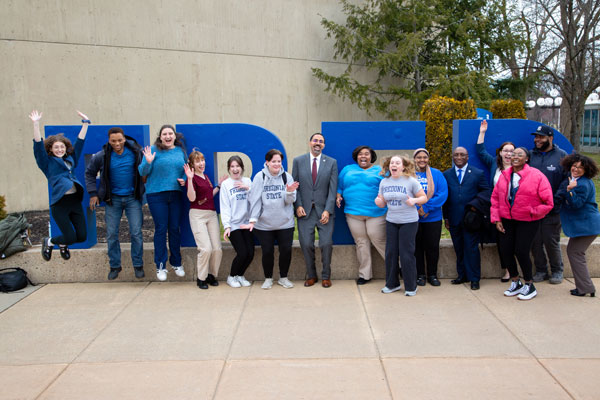 King's campus tour concluded at the Williams Center, where he met students in the Honors Program, the Educational Development Program, Residence Life and Intercultural Center. Lots of selfie photos were taken of students with the Chancellor, who also gathered with students outside at the FRED sculpture.