Vanwesenbeeck uncovers SUNY Fredonia connection to renowned poet Sylvia Plath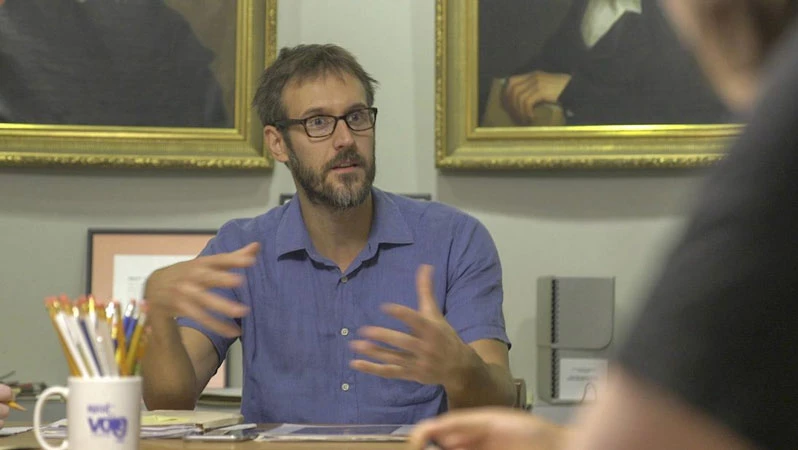 Department of English Professor Birger Vanwesenbeeck spent part of the summer at Indiana University's Lilly Library to research the Sylvia Plath papers.
One of the most significant American poets of the 20th century, Ms. Plath (1932-1963) exhibited a lifelong interest in learning German, the native language of her father, and even translated a poem by the German-language poet Rainer Maria Rilke while still an undergraduate at Smith College in the fall of 1954.
This translation, which was first included in the 1981 edition of Ms. Plath's Collected Poems, spurred Dr. Vanwesenbeeck to see if more information surrounding the circumstances of its composition might be found among the Plath papers at the Lilly library. Was the poem assigned to her? Or did Plath herself choose this particular Rilke poem? Who was her instructor?
During his research stay Vanwesenbeeck found out that it was none other than future SUNY Distinguished Professor Marion Sonnenfeld, then a doctoral student at Yale who would go on to teach at Fredonia for 25 years, who taught Intermediate German ("German 12") to Plath that particular fall semester.
"Unfortunately, we can only speculate about the feedback that Plath received from Sonnenfeld for her translation; Plath's 1954 daily planner notes that she received a '10/10' from Sonnenfeld but it's unclear whether that pertains to the Rilke translation or a different assignment," Vanwesenbeeck explained.
That the two women shared a strong and deep commitment to female excellence, however, is evident both from Plath's acutely gender-conscious poetry and from Fredonia's Sonnenfeld award, established through the Fredonia College Foundation, which still each year recognizes the outstanding achievements of a current female Fredonia student.
A photo of Dr. Sonnenfeld, who passed away in 1999, adorns one of the walls in the first-floor atrium space of Fenton hall.
Vanwesenbeeck's research findings about Plath's translation of Rilke (and its connection to Dr. Sonnenfeld) will appear in the 2022 winter issue of the peer-reviewed journal Twentieth-Century Literature, published by Duke University Press.