Zainab Ahmed named Honors Student for October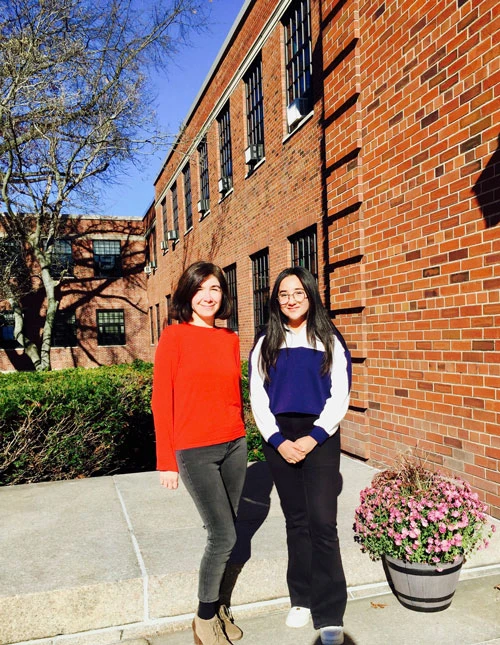 Zainab Ahmed, a junior from Lahore, Pakistan, majoring in Molecular Genetics, was nominated by Department of English Associate Professor Iclal Vanwesenbeeck for the October Honors Student of the Month award.
Contributions by Ms. Ahmed to the course ENGL 167: Border Crossings are considered to be high-impact, according to Dr. Vanwesenbeeck, the course instructor.
"Her work in my course is outstanding, sophisticated and thoughtful. She is a mature thinker who can philosophize on complex issues. Her analytical writing is very strong, and so are her hermeneutical skills," Vanwesenbeeck said.
"Her work in my course is outstanding, sophisticated and thoughtful." - Dr. Iclal Vanwesenbeeck
Furthermore, "as an international student, and a young woman scientist doing cancer research, she fully embodies the program vision. She is academically motivated, she comes from a diverse background and enriches our worldview, and is a student who shows mastery in the humanities and sciences. I recommend her enthusiastically for this award," Vanwesenbeeck said.
Ahmed began her degree during the pandemic and thrived in a field that's so important in today's world, Vanwesenbeeck said. "I do believe that she is academically motivated and will carry the Honors Program's name far and away in the future. She has already started looking for Ph.D. programs in cancer research and I have every reason to believe that we will soon invite her to give a talk here at Fredonia as an Honors Program alum," Vanwesenbeeck added.
An exemplary student ranked in the top 1 percent of her class, Ahmed is an R.A. in McGinnies, serves as the student representative to the Academic Integrity Committee and the Judicial Committee, and a Resident Assistant Association Board member.
"One thing I appreciate the most about (the) Honors Program is the way it pushes me to pursue courses that I otherwise would not have chosen for myself. It allows me to broaden my horizon and learn about socio-economic issues that I would not have been able to have done in my regular Mol-Gen courses," Ahmed said.
Ahmed's favorite and most challenging Honors class was Spring in Fredonia, which she took during Spring 2021, her first on-campus semester at Fredonia. "That class made me experience the testing weather of Fredonia firsthand and at the same time it also made me view nature in a completely different light.
"I am much more appreciative of nature now and I feel that this is a personality change that I will carry on forever," Ahmed said.
"My only advice to my fellow Honors students would be to enjoy each Honors course to the fullest no matter how overwhelming it may look in the beginning. These Honors courses have challenged my intellect the most, and I hope they do the same for any incoming student because these courses arm you with knowledge of the world," she said.
Ahmed's favorite part of Fredonia is her residence hall and the people living in it. She also really loves the nature surrounding the campus.
"Another and perhaps the most important thing I like about Fredonia is the independence it has given me and all the opportunities that have come my way. I am an R.A. at McGinnies Hall. I am also a student representative on the Judicial Board and the Academic Integrity Board on campus. I also work in the Quintyne Lab on various different cancer research projects," Ahmed said.
Ahmed's future goal after this year ends is to secure a challenging yet immersive REU (Research Experience for Undergraduates) at a prestigious institute or laboratory for Summer 2023. After graduation, she would like to immediately pursue a Ph.D. in Cancer Biology.
"I would like to thank all my professors, my residence hall staff members and my fellow lab colleagues for shaping me into a person that I am today. I have learnt a thing or two from each one of them, be it related to studies or just how to live a balanced life."
The Honors Student of the Month Program, which recognizes outstanding SUNY Fredonia Honors students, is a collaboration between the Fredonia Honors Program and the Office of Residence Life, and includes the new Honors House, a living-learning community, in Grissom Hall.
Awards recognize students who reflect the program's Mission and Vision:
Mission: The Fredonia Honors Program supports academically motivated students by connecting these students to meaningful opportunities to learn, lead and live amid a community of like-minded peers.
Vision: The Fredonia Honors Program will be a transformative, comprehensive experience for academically motivated students from diverse backgrounds, providing access to distinctive, high-impact, interdisciplinary learning and leadership opportunities.
To be eligible for consideration, Honors students must be in good standing in the Fredonia Honors Program; have a minimum cumulative GPA of 3.3 or higher; have successfully completed at least one Honors course; and have completed at least one year at Fredonia. Students do not need to live on campus.
The student selected as an Honors Student of the Month will receive a $20 gift card to the bookstore, a certificate and lunch at Cranston Marche with their nominator, as well as Kathy Forster, director of Residence Life, and members of the Honors Student of the Month Committee.
In addition, the student's name will be engraved on a plaque in the Office of Residence Life, and the student will have a biographical article published in the Campus Report. The program is currently accepting nominations for the Honors Student of the Month for November. Nominations will close on Wednesday, Nov. 30.