Grabowski named April Student of the Month
Katherine Grabowski of Baldwinsville was selected as the April 2018 Student of the Month by the Office of Residence Life.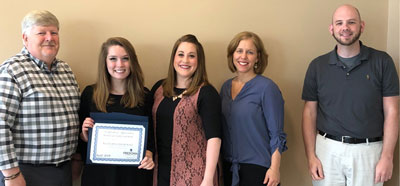 Katherine Grabowski (second from left) with (from left) Assistant Director of Residence
Life and Townhouse Coordinator Dan Goodwin; Assistant Director of Campus
Life Rachel Martin; Director of Residence Life Kathy Forster and Associate
Director of Residence Life Kevin Hahn.
Ms. Grabowski majored in Early and Childhood Education-Music and graduated on May 19 with her Bachelor of Science in Education degree, summa cum laude. She was honored by being invited to give the opening reflection at the afternoon Commencement ceremony. Assistant Director of Campus Life Rachel Martin, Grabowski's club advisor for Spectrum Entertainment Board, nominated Grabowski for the award.
Grabowski has been heavily involved in numerous clubs and the community during her four years at Fredonia. Experiences include her membership in S.T.E.P.S, her leadership as both Secretary and Vice President for Spectrum Entertainment Board and her service as Vice President of the Student Association. She also served as a tour guide on campus and substitute taught at the Campus and Community Children's Center. Grabowski noted, "I think there are just too many aspects of Fredonia that can be classified as my favorite. Fredonia has been a home away from home for all four years. The campus feels like its own little community and when the weather is warm, all I want to do is be outside taking it all in. Aside from the campus itself, I think one thing I have loved about Fredonia is the people I have met here. It is true, Fredonia is friendly and I have made friendships that will absolutely last me a lifetime. Being involved in the clubs Fredonia has to offer has been the main reason I have built so many great relationships with people and the amount and variety of clubs we have is something that makes me proud to go to school here! I brag about Fredonia back at home because I have had nothing but great experiences in and out of the classroom since year one!"
Grabowski plans on teaching full time at an elementary school and attending graduate school part-time for her master's degree. She currently has interviews lined up in the Syracuse area. She is excited to have her own classroom filled with her own students.