Grad profiles experiences of WW II vets in national magazine
The World War II experiences of two Western New York veterans have been chronicled in dramatic fashion by Matthew DeWinde, a 2017 graduate of the Fredonia, in articles published in the June issue of the magazine, America in WW II.
"Kamikaze-Spotter," the title of one article, was also the job of 18-year-old Douglas Manly, a primary battery gun pointer and one of 300 sailors on the destroyer USS Ault during the final year of the war. Much of the Mr. DeWinde's article recounts a harrowing experience in April 1945, when a 19-year-old steward, deploying a 22 mm tail gun, downed a low-flying attacker that had successfully eluded the Ault's larger guns.
"Manly and the rest of the crew had survived another close call in the Battle of Okinawa," DeWinde wrote.
Five months later, DeWinde reported that Manly was perched high above the Ault's deck, where he witnessed Japan signing formal surrender papers aboard the USS Missouri.
After the war, the Rochester, N.Y., native earned a degree in Food Technology at Cornell University and served in several high-level executive positions at the former Red Wing operation. He lives in Fredonia and is a former chair and vice chair of the board of directors of the Fredonia College Foundation.
In his second article, "Free Fall of an American Airman," DeWinde recounts in extensive detail the fateful day when Lester Bishop, a B-24 waist gunner, bailed out of his B-24 Liberator, Flying Fool, moments after it was struck by a ground-based German anti-aircraft cannon in the Normandy region of France in August 1944. Across six pages, the article unveils great insight into how Sgt. Bishop survived as a prisoner of war, enduring disease, abuse and hardship in German prison camps.
DeWinde's use of insightful historical context adds dimension to the article. Only six of the Flying Fool's 10-man crew got out safely before it crashed to the ground, a percentage that DeWinde says mirrors the "chilling" casualty rate for U.S. combat airmen at the time.
After the war, Bishop returned to his hometown, Little Valley, N.Y., and worked as a postmaster and carpenter.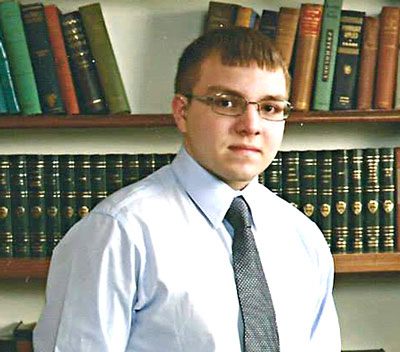 Alumnus Matthew DeWinde
DeWinde, who recently accepted a new teaching assignment in Kansas, wrote the articles during an internship at the Robert H. Jackson Center in Jamestown, N.Y., in conjunction with its Defenders of Freedom oral history project that compiled, over several years, recorded interviews of more than 225 area World War II veterans. Working with Jackson Center volunteer and Phil Zimmer, DeWinde viewed taped interviews of Manly and Bishop and also met them during the 2016 spring semester.
DeWinde is the third Fredonia student to intern with Mr. Zimmer, a 1969 Fredonia graduate who also majored in History, at the Jackson Center. The other two who also had articles placed in media as part of internships were Abby Blinn (History), '16, and Peri Pearson (History, Adolescence Education: Social Studies), '18.
Collectively, Zimmer says the trio further raised the visibility of the local veterans and their service, as well as the Defenders of Freedom project itself. "All three were solid writers who reflect well on the history department and all three had their features on WW II veterans placed in either local or national media outlets," he said.
David Kinkela, chair of the Department of History at Fredonia, said DeWinde developed critical thinking and writing skills that helped bring these stories to life. "Indeed, with its focus on critical reading and writing skills, document analysis, storytelling and learning beyond the classroom, the History major provides students with many transferable skills to succeed in a variety of professions," Dr. Kinkela said.
"The students, for their part, came away with real-life experience with the interview and writing process…and had press clippings for their portfolios," Zimmer added.
DeWinde graduated Summa Cum Laude, with majors in History and Adolescence Education: Social Studies. Another version of the Bishop article was also published in The (Jamestown) Post-Journal.
America in WW II is a bimonthly national magazine dedicated to keeping the World War II generation alive and in the collective memory of the nation.