Igoe presents during Constitution Day observance
Department of Communication Assistant Professor Mike Igoe, former WGRZ-TV news reporter and lawyer, delivered a presentation titled, "Why the U.S. Constitution Matters in Our Everyday Lives," to an audience of 100 faculty, staff, students and community members.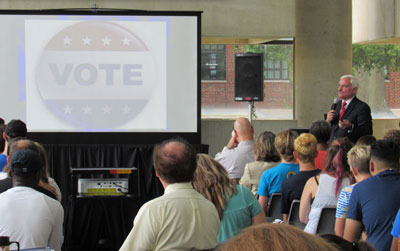 During his presentation, Mr. Igoe encouraged his audience not to take their freedoms for granted. He cited examples of foreign countries he has taught where First Amendment rights are severely suppressed. For instance, the audience learned that Turkey is the number one country for jailing journalists and that China is embarking on a campaign of destroying Christian crosses.
His presentation was given in conjunction with other Constitution Day observances and was co-sponsored by the American Democracy Project and the Division of Advancement, Engagement, and Economic Development.