Mason receives award from the Earth Month Network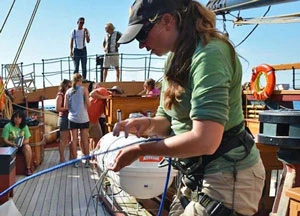 The Earth Month Network in honor of the 47th Anniversary of Earth Month® has bestowed upon Dr. Sherri A. Mason, chair of the Department of Geology and Environmental Sciences and professor of chemistry, the Environmental Excellence in Research Award.
The award citation states in part: "By taking a positive role for 14 years of progressive quantitative research concerning the first-ever survey for plastic pollution within the open-waters of the Laurentian Great Lakes, giving rise to its problematical issues regionally as to fresh water and international attention in saltwater. The research of microplastics has led to the formal study of harmful effects upon different aspects of the environment, our delicate ecosystem and various species, which in turn affects humans. You have pioneered the way to formulating resolve to these issues including but not limited to awareness and building bridges of knowledge with community leaders and promoting legislation."
Dr. Mason has been engaged in research of microplastics as well as atmospheric kinetics and the impact of combustion emissions. She has been credited and published in four major research projects related to plastic pollution and five related to atmospheric pollution, and is recognized as an expert in her field.
"We are just at the starting point of continual research of microplastics, microfiber and plastic pollution on a global basis of which to find resolve. We need to fully address and correct this dismal course of pollution as it affects human health." said Brad Follett, founder and president of Earth Month and Earth Month Network. "Funding for research is necessary and imperative to first understand the implications of the problem and second to reverse it." said Follett.
In addition, Dr. Mason is an avid swimmer and will be conducting several swims this summer across Lake Erie and Chautauqua Lake to bring about awareness of and against plastic pollution.