Piano competition announced by School of Music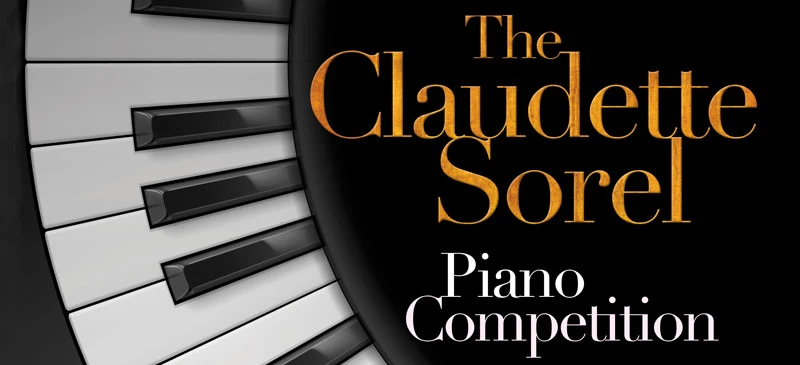 The Fredonia School of Music announces the third annual Claudette Sorel Piano Competition, open to young pianists ages 15 to 18.
The event is designed to celebrate the creativity and excellence of young pianists, providing an opportunity to participate in a competition environment that is designed to be challenging, nurturing and rewarding. Named in honor of Fredonia piano SUNY Distinguished Professor Emeritus Claudette Sorel, the event is generously supported by the Sorel Organization, including a $2,500 cash first prize and $1,250 additional prize money awarded at the judges' discretion.
The competition consists of two rounds and is open to young artists who are enthusiastic about piano performance and repertoire. The First Round is online; participants must submit an online entry form and a high-quality video of a piece they are passionate about, approximately five to eight minutes in length. The deadline to apply is Sept. 20.
If selected as a finalist for the competition, participants are asked to prepare a program (from memory) of no longer than 15 minutes that demonstrates their artistic vision, such as works of a specific composer, known or unknown, a thematic connection between works, an original way of presenting the music, etc.
The Final Round will begin at noon on Saturday, Nov. 3. Each finalist will play a 15-minute recital in the acclaimed Juliet J. Rosch Recital Hall in Mason Hall on the Fredonia campus. The performance is open to the public and will also be live streamed. A reception will be held immediately following the performance, giving finalists the opportunity to receive feedback directly from the judges. Winners will be announced that afternoon. Judges for the competition are current and former piano faculty including Dr. Eliran Avni, Mary Marden Cobb, Fr. Sean Duggan, Dr. Anne Kissel and Phyllis East. All finalists will receive a recording of the competition.
"I can't wait to hear these talented young performers," commented Dr. Avni, competition director. "This is our third year of holding the competition, and every year I'm incredibly impressed with the level of creativity, talent, and dedication each contestant brings to the stage. Our mission is to create a space for young musicians to share their passion for music and the piano in a nurturing environment that deeply appreciates their hard work, and also challenges them to push themselves to a higher level of performance. We hope many young pianists will take advantage of this fantastic opportunity!"
Claudette Sorel Piano Competition details and registration are online at www.fredonia.edu/music/sorel-piano-comp. Questions may be directed to Avni at eliran.avni@fredonia.edu.
The Sorel Organization intends to create opportunities for women in composition, conducting, piano, voice and film scoring and to keep musical excellence alive while expanding the boundaries for women in music.
As a special added feature, this year will include a guest artist performance by the international award-winning pianist, Anna Shelest, on Friday, Nov. 2 at 8 p.m. in Rosch Recital Hall. Ms. Shelest, hailed by The New York Times as a pianist of "a fiery sensibility and warm touch," will perform a program of piano music written by women composers, plus Rubenstein's Fifth Piano Concerto. The free event is made possible thanks to the generous support of The Sorel Organization.