Stephen Kershnar named SUNY Distinguished Teaching Professor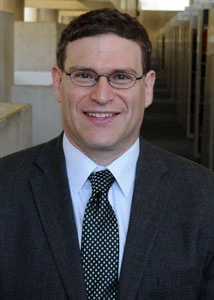 Stephen Kershnar of the Department of Philosophy has been selected as one of 19 faculty members throughout SUNY to receive the distinguished rank by the State University of New York Board of Trustees.
The distinguished designation, SUNY's highest academic honor, is reserved for the best of the best, according to SUNY Board Chairman H. Carl McCall. Each professor earning the distinction has advanced his/her field while teaching and mentoring students, often collaborating and innovating with colleagues, and serving society at large, Mr. McCall said.
Dr. Kershnar, professor of Philosophy and chair of the Department of Philosophy, received the rank of Distinguished Teaching Professor, which recognizes and honors the mastery of teaching. Candidates for the rank demonstrate consistently superior mastery of teaching, outstanding service to students, commitment to their ongoing intellectual growth, scholarship and professional development, and adherence to rigorous academic standards and requirements.
Dr. Kershnar is renowned on campus for his unique and effective style of teaching that combines the Socratic method of questioning employed by law school professors with a philosophical technique of vigorously defending conflicting conclusions.
Expertise in philosophy of law, ethics and political philosophy is said to enliven Dr. Kershnar's teaching and scholarship. His students consistently give him excellent evaluations, and many former students have achieved considerable success in business, law and philosophy.
Outside the classroom, Dr. Kershnar is also generous with his time. He oversees several student clubs and works independently with students who seek assistance. He has high expectations for his students, and by levying rigorous standards he brings out the best in them.
Dr. Kershnar also excels in professional development, with scholarly activity described as both ongoing and robust. He is the author of six published books, over 60 articles and a host of book reviews since his appointment to Fredonia in 1998. He became a full professor in 2005.
Other honors conferred upon Dr. Kershnar include the SUNY Chancellor's Award for Excellence in Teaching, the SUNY Chancellor's Award for Excellence in Scholarship and Creative Activities and Fredonia's William T. Hagen Young Scholar/Artist Award. In 2008, he was selected to give Fredonia's Robert W. Kasling Memorial Lecture.
Dr. Kershnar received his doctoral degree from the University of Nebraska, a law degree from the University of Pennsylvania School of Law and undergraduate degree at Cornell University.