Fredonia Fast Facts
Overview: Founded is 1826, The State University of New York at Fredonia is one of the jewels of the SUNY system, known for its welcoming atmosphere, distinguished faculty, and beautiful campus. 
University President: Stephen H. Kolison Jr., Ph.D., 2020-present
Our beautiful 256-acre campus is located in Chautauqua County in Western New York. Located in the historic village of Fredonia, the campus is less than an hour from Buffalo, one hour from Erie, Pennsylvania, 90 minutes from Rochester, and 2.5 hours from Cleveland and Pittsburgh.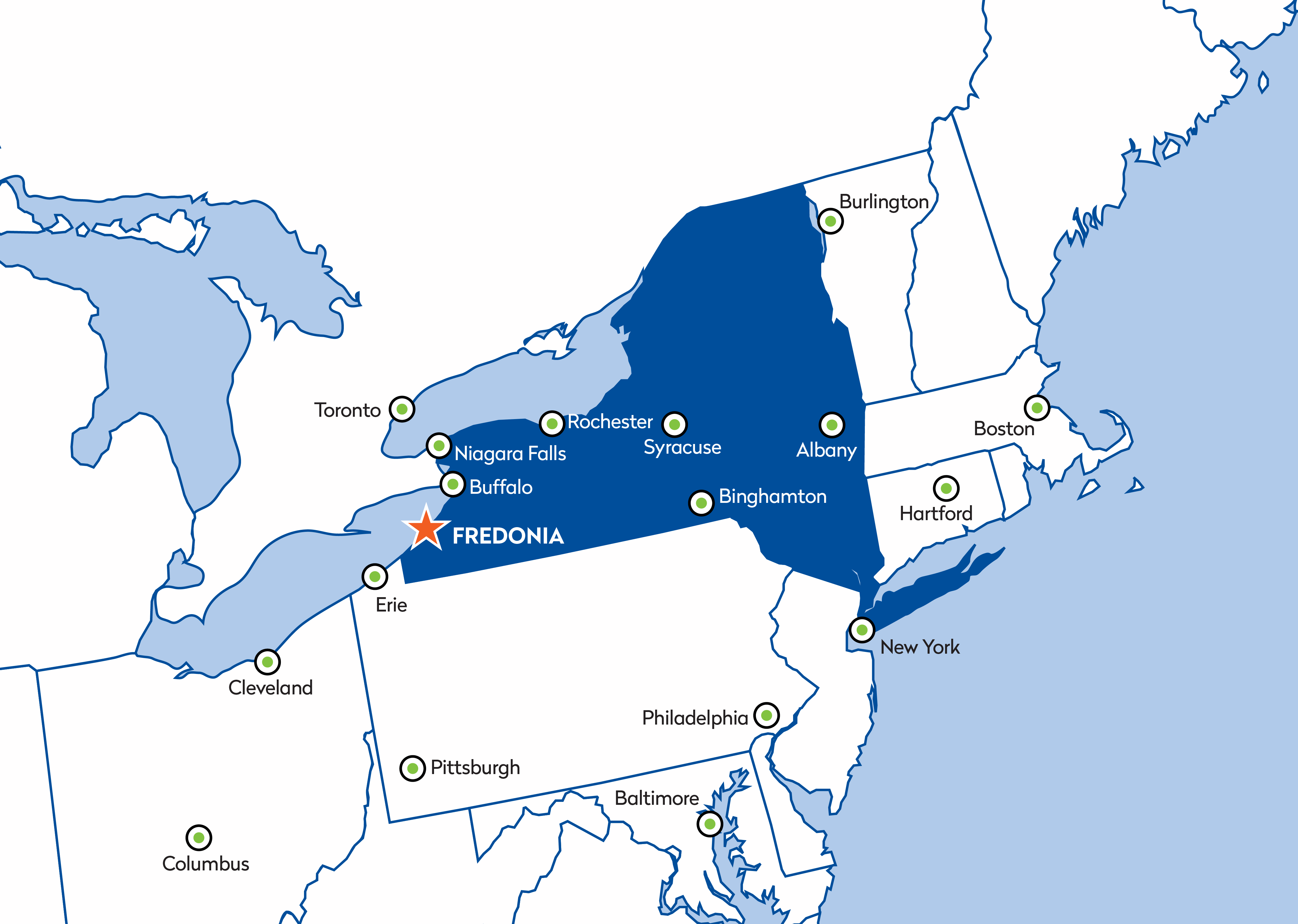 Enrollment
Total: 3,790
Undergraduate: 3,565
Graduate: 225
60:40 Female-Male Ratio
Student diversity
8% African American students
10% Hispanic/Latino students
2% Asian students
2% foreign students
4% students of two or more races
1% other or unknown
Our students come from 37 different states and 22 different countries
85-94 middle 50% of high school GPA
1100-1300 middle 50% of SAT scores
24-29 middle 50% of ACT scores
* As of Fall 2020, Fredonia is test optional
$19 million in scholarships and grants awarded annually
$4.2 million in merit-based scholarships awarded annually
90% of undergraduate students receive financial aid
80% of undergraduates are receiving a grant or scholarship
97% of first-year students are receiving financial aid
95% of first-year students are receiving a grant or scholarship
43% of Undergraduates receive Pell Grant
52% of Undergraduates receive TAP (NYS's Tuition Assistance Program)
20% of Undergraduates receive Excelsior Scholarship
22 average class size
13:1 student:faculty ratio
87% full-time faculty with highest degree in their field
Over 1,000 study abroad programs in more than 60 countries on all seven continents available through SUNY!
15% of Fredonia students will study abroad at one point in their undergraduate career; that's higher than the national average of 10%
Fredonia is a member of the competitive SUNY Athletic Conference (SUNYAC).
Programs
Women: 11 programs (soccer, tennis, volleyball, cross country, basketball, swimming and diving, track and field - indoor and outdoor, lacrosse, softball and cheerleading)
Men: 8 programs (soccer, cross country, basketball, hockey, swimming and diving, track and field - indoor and outdoor, and baseball)
Facilities
Indoor facilities: A new state-of-the-art fitness center, two gymnasia, swimming arena, diving well, ice arena, track
Outdoor facilities: University Stadium soccer and lacrosse fields, practice soccer fields, baseball field, softball field, outdoor running track, cross-country running course, and basketball and tennis courts.