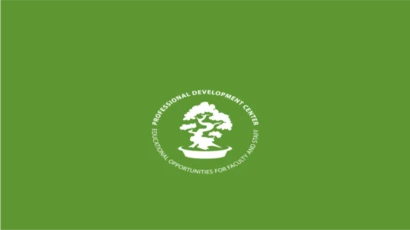 Inclusive Teaching: A Learning Community for Educators 
The Professional Development Center is pleased to sponsor faculty-led learning communities on the topic of Inclusive Teaching. Please contact pdc-grp@fredonia.edu with inquiries regarding hosting a learning community for your department.

What is a learning community?
A learning community provides space and structure for a group of people to explore a topic of shared interest. Learning communities promote discourse, collective responsibility, and collaboration across disciplines and professional specialties.

What is inclusive teaching?
Inclusive teaching refers to pedagogy that strives to serve the needs of all students, regardless of background or identity, and support their engagement with subject material. Hearing diverse perspectives can enrich student learning by exposing everyone to stimulating discussion, expanding approaches to traditional and contemporary issues, and situating learning within students' own contexts while exploring those contexts. (How Learning Works: Seven Research-Based Principles for Smart Teaching. Ambrose et. al, 2010).
Participants in Fredonia's Inclusive Teaching Community will:
Become familiar with and conversant in the research and evidence that informs Inclusive Pedagogy;
Critically reflect on their own pedagogical practice and approach redesign/revision from an Inclusive framework; and
Discern the effects of privilege and power in the higher education classroom and articulate how they address those effects in their own practice.
Group members will determine a final project or outcome from their participation in the learning community. This could take the form of a revised syllabus, a revised assignment, sharing resources with colleagues, serving as a peer mentor, etc.
Frequency of meetings, schedule of readings, activities, and the shared outcomes for the group will be determined by the members.
Each participant will receive a copy of:
Whistling Vivaldi: How Stereotypes Affect Us and What We Can Do by Claude Steele

Teaching Across Cultural Strengths: A Guide to Balancing Integrated and Individuated Cultural Frameworks in College Teaching by Linda Chavez and Diane Longerbam.

Required readings and reading schedule will be determined by the group.
Interested in participating? Please email Dawn.Eckenrode@fredonia.edu