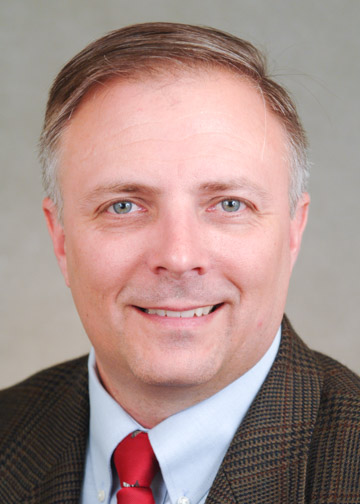 Dr. Matthew Fountain
Professor
311 Science Center
(716) 673-3287
Ph.D., University of Rochester
1988 BA Biology, SUNY Potsdam
1988 BA Chemistry, SUNY Potsdam
1990 MS Chemistry, University of Rochester
1994 PhD Chemistry, University of Rochester
1994-95 Postdoc University of Rochester
1995-97 Visiting Professor, Hobart and Williams Smith Colleges
1998 Assistant professor, Chemistry and Biology Departments
2005-2013 Associate Professor Chemistry and Biology Departments
2013- present Full Professor, Chemistry and Biochemistry Department and Biology Department
2015 - 2022, Chair of Chemistry and Biochemistry Department
Teaching Interests
Biochemistry lecture and labs, structural biology, Advanced Biochemistry, Advanced Experimental Biochemistry.
Has taught: General, Organic, lecture and lab sequences, Introduction to Biology, Biology seminar, Principles of Physical Chemistry, Bio-organic, Organic Structure Determination and Analytical Chemistry II Instrumental analysis Lab.
Research Interests
Studying the sequence dependent structural features of small hairpin loops using thermodynamics, NMR spectroscopy, and molecular modeling. Identification of RNA secondary and tertiary structure using SHAPE. Investigation of metal ion binding to base pair mismatches using MALDI-TOF MS, surface plasmon resonance, fluorescence, and NMR spectroscopy. Structure of RNA structures involved with neural and muscular degenerative diseases.
Recent publications
Design, Optimization, and Study of Small Molecules That Target Tau Pre-mRNA and Affect Splicing. Chen JL, Zhang P, Abe M, Aikawa H, Zhang L, Frank AJ, Zembryski T, Hubbs C, Park H, Withka J, Steppan C, Rogers L, Cabral S, Pettersson M, Wager TT, Fountain MA, Rumbaugh G, Childs-Disney JL, Disney MD. J Am Chem Soc. 2020 May 13;142(19):8706-8727.

Structure and Dynamics of RNA Repeat Expansions That Cause Huntington's Disease and Myotonic Dystrophy Type 1.Chen JL, VanEtten DM, Fountain MA, Yildirim I, Disney MD. Biochemistry. 2017 Jul 11;56(27):3463-3474.

Selective binding of Zn2+ complexes to human telomeric G-quadruplex DNA. Siters KE, Fountain MA, Morrow JR. Inorg Chem. 2014 Nov 3;53(21):11540-51.

Synthesis and luminescence properties of a trinucleotide-europium (III) complex conjugate. Escudier JM, Dupouy C, Fountain MA, del Mundo IM, Jacklin EM, Morrow JR. Org Biomol Chem. 2009 Aug 21;7(16):3251-7.

Structural basis for bifunctional zinc(II) macrocyclic complex recognition of thymine bulges in DNA. del Mundo IM, Siters KE, Fountain MA, Morrow JR.Inorg Chem. 2012 May 7;51(9):5444-57.
Current Research
Determination of the secondary structure of the 3' untranslated region, UTR, of the COVID-19 RNA
Sequence specific structural changes in DNA containing tandem mismatches.
Professional Membership
American Chemical Society
Contracts, Grants and Sponsored Programs
" Genetic Analysis of Gurken translational Control in Drosophila," N/A (2017).
"Secondary structure of a 3' untranslated region of the COVID-19 genome," N/A (2020).
Media Contributions
Department open house (2021).
Chemistry website (2017).
Performances/Exhibits
Protein structure and function. Phyllis W. and Lawrence A. Patrie Endowment for the Sciences and in the spirit of the Costello Interplay Award, Science Center SUNY Fredonia (2018).