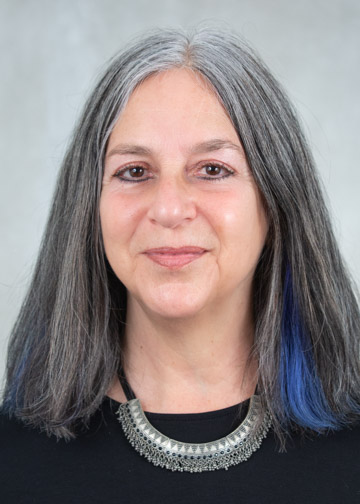 Dr. Jeanette McVicker
Professor
Fenton Hall 241 Fenton Hall
(716) 673-3861
Ph.D., SUNY Binghamton
Jeanette McVicker received her Ph.D. from SUNY Binghamton's interdisciplinary program in Philosophy, Literature and Theory of Criticism (PLC), earning her doctorate in Comparative Literature and M.A. in Philosophy. She has served as English department chair, Women's Studies director, and coordinator of an interdisciplinary minor in journalism.
Dr. McVicker is also a strong advocate of international education, serving as a Fulbright teaching fellow (Iasi, Romania) in 1991-92, and an invited visiting professor at the University of Cyprus in Spring 2001. She has presented at numerous interdisciplinary conferences and is a frequent faculty participant in the English Department's Literary London program.
Teaching Interests
Taking an intersectional and comparative approach to teaching, Dr. McVicker's work in the classroom typically highlights issues of race/ethnicity, gender, language and power, whether in Fredonia Foundations courses (e.g. 'becoming Americans' and social justice courses), contemporary theory (e.g. theories of gender; constructions of posthumanism), media studies (e.g., opinion in journalism), or literature (multi-ethnic literature; modernist literature).
Research Interests
Dr. McVicker works extensively in modernist/Virginia Woolf studies. She has also published research on U.S. media and journalism; the rhetoric of the 'war on terror'; and issues surrounding gender, culture and nationalism.
Awards and Honors
Faculty Summer Research Grant, SUNY Research Foundation/SUNY Fredonia (2018).
Professional Development Award for Teaching and Learning, SUNY Fredonia (2016).
Chancellor's Award for Excellence in Teaching, SUNY (2013).
HERS Wellesley Institute, Higher Education Resource Services (HERS) (2013).
Women's Leadership Institute, WNY College Connections (2012).
Golden Key inductee, Golden Key Honour Society (2009).
President's Award for Excellence in Teaching, SUNY Fredonia (2008).
Fulbright Fellowship, CIES (1991).
Professional Membership
Feminist Inter/Modernist Association
League of Women Voters
International Virginia Woolf Society
Katherine Anne Porter Society
Modern Language Association
Intellectual Contributions
""Archaeological Woolf: Prehistory, Heterotopias, and Envisioning the Future"," Woolf Studies Annual (2022).
""Virginia Woolf in Greece: 'Curious contrasts!': Hellenism and Englishness"," _Virginia Woolf and Heritage: Selected Papers from the 26th Annual Conference on Virginia Woolf_ (Clemson University Press) (2017).
""In the Neighborhood of Zero: Ontology and Pedagogy"," boundary2: an international journal of literature & culture (2015).
""Rethinking Revolution: American Youth and Political Subjectivity"," Postcolonial Studies (2014).
""The Task of Journalism in the Age of Terror: Imagining the Profane"," Philosophy Today (2012).
""Between Writing and Truth: Woolf's Positive Nihilism" in _Virginia Woolf and the Literary Marketplace_," Palgrave Macmillan (2010).
Presentations
"'Rethinking the Dreadnought Hoax: A Discussion' ," 30th Annual Conference on Virginia Woolf: "Woolf and Performance" (2021).