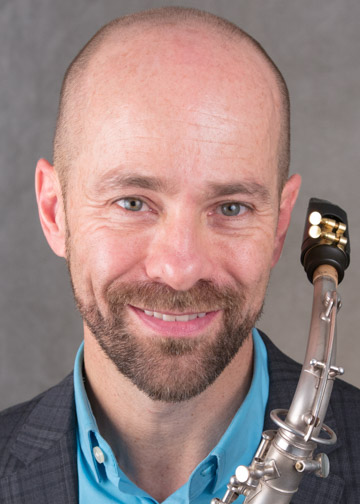 D.M.A., Florida State University
Wildy Zumwalt is an active performer, teacher and scholar of the saxophone with regular engagements in the US and Europe. Recent performances, masterclasses and lectures were given at Whitworth University and Westminster College, as well as recitals in Utrecht, Holland, and Schweighofen, Germany. Zumwalt has been a featured soloist with the Buffalo Philharmonic Orchestra, Western New York Chamber Orchestra, and the Erie Chamber Orchestra. As a chamber musician, he performs regularly on the Musical Feast Series at the Burchfield Penney Art Gallery in Buffalo, and is a member of the duo Klang par2, which has given concerts in Germany, Poland, Holland, Arizona and New York. Zumwalt is on-call saxophonist with the Chautauqua Symphony and the Buffalo Philharmonic and he has played also with the Knoxville Symphony, Fort Wayne Philharmonic, Flagstaff Symphony and Naples (FL) Philharmonic, among others. Additionally he has been featured in numerous radio broadcasts including NPR's Performance Today. Dr. Zumwalt is a noted scholar on early German repertoire for the saxophone and his research has led to the re-discovery and publication of works by Edmund von Borck, Hans Brehme and Hugo Kaun. Zumwalt is currently writing a biography on the classical saxophone pioneer, Sigurd M. Rascher, whose Archive is held in Archives and Special Collections at the Reed Library, SUNY Fredonia.
Performances/Exhibits
Sigurd Rascher Collection Highlights. , Rosch Recital Hall/Mason Hall, SUNY Fredonia (2023).