The Application Process
Students applying for EDP/EOP consideration for the 2019-20 academic year must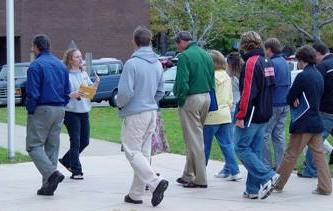 complete the SUNY Application (State University of New York Application for Undergraduate Admission). Both first-year and transfer applicants to EDP/EOP may waive the $50 fee. If a student is found ineligible, or if the choice of college does not offer EOP, the student will be billed for the fee. Students may apply online, an especially convenient option for seeking admission to Fredonia. Once the application has been received, Fredonia's admissions committee will review it and may request additional information before reaching a decision. Items needed to complete an application are:
two letters of recommendation (e.g., from a guidance counselor, teacher, club leader, employer, etc.)
eligibility information form -- Download Eligibility Information Form PDF (81kb)
high school transcript or GED
SAT and/or ACT test scores
income verification (e.g., signed copies of federal parents' taxes and student's taxes (if filed), including W-2 forms, etc.)
if taxes are not filed, then you will need to submit a social security statement, social services statement, etc. See Question #8 on the Eligibility Information Form for more details.
autobiographical essay (e.g., an essay you write about you; tell us about your life circumstances which you feel make you a good candidate for EDP)
interview with EDP director
All information is to be mailed to Fredonia's Admissions Office at Admissions, Maytum 6th floor, State University of New York at Fredonia, 280 Central Avenue, Fredonia, NY 14063 - 716-673-3251 -fax 716-673-3249.

Check out SUNY's website for current EOP admission and economic guidelines.
Student Eligibility
EDP applicants must reside in New York State, have a high school equivalence diploma, demonstrate the need for academic support services, meet the financial eligibility guidelines, and exhibit the potential to complete a degree program successfully. The table below lists financial eligibility requirements for EOP admission during the 2019-20 academic year. A more detailed description is in the SUNY Application and Viewbook.
Exceptions to Income Guidelines
The student's family is the recipient of Family Assistance or Safety Net payments through the New York State Office of Temporary and Disability Assistance, through a county Department of Social Services, or of Family Day Care payments through the New York State Office of Children and Family Assistance;
The student lives with foster parents who do not provide support for college and the student's natural parents provide no such support;
The student is a ward of the state or county.
Please Note
Many students are faced with financial and academic obstacles that have not allowed them to maximize their academic potential. Historically, the program has given priority to applicants with chronicled disadvantaged backgrounds. Eligibility is based in part on each applicant's:
High School Average - generally range from 76-85
Standardized test scores (SAT or ACT) - generally range from 800-1,000 SATs
Class rank, and the difficulty of the curriculum studied
Evidence still shows that these criteria may not accurately predict the academic potential of certain students. In conjunction with these issues, information regarding the following factors will be considered to determine eligibility status for admission:
Extracurricular activities (i.e. community service, leadership, etc.)
Employment
Any experiences that affected academic performance
Back to Top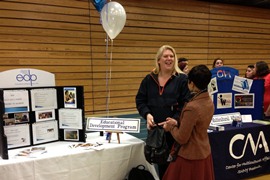 Transfers
When transferring into Fredonia's EDP program, a student must submit documentation to verify that they met economic and academic guidelines when they were first admitted to a college. Students are asked to have their current college's EOP director complete this form:
OPEN HOUSE / VISITING THE CAMPUS
EDP students and staff take an active role in recruiting students for the program through outreach both on and off campus. Come and visit us at our next college Open House. Check this link for upcoming OPEN HOUSE DATES
Contact Us!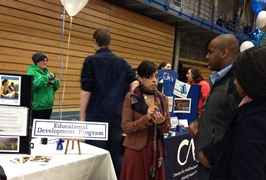 If you are new to the college process, some of this information may seem confusing. That's why we are more than happy to help answer any questions or concerns that you may have. We will assist you any way that we can to get you going with the admissions process. If you're having trouble, drop us an email or call us and we will promptly come to your aid.
Email questions to EDP at : Rachel Skemer, EDP Director, or call us at 716-673-3317. You may also call directly to the Admissions Office 716-673-3251.