Starfish Resources for Students
Starfish for Students
Starfish at Fredonia is designed to facilitate communication among students, Academic Advisors, instructors, and others who are here to support student learning.
Starfish provides a central location to connect to the people and services that can help the students at Fredonia engage in their education.
What You Should Know About Starfish:
Alerts in Starfish (flags, kudos, and referrals) can only be viewed by you, the instructor who created the alert, the Starfish Team, academic advisors, and the campus services who may be related to a referral (as appropriate). These people may reach out to help connect you to relevent campus resources.
All notifications will be sent to your Fredonia email account. In your Profile, you can elect either a second personal email or a personal cellphone number to receive SMS Starfish notifications.
Starfish at Fredonia is not a formal academic grading system. No official grades will be posted in Starfish.
Starfish is meant to be an informative and corrective system. It is not disciplinary. Our main goal is to help you be successful during your time at Fredonia and to help create a supportive educational environment for you.
Information in Starfish is protected under the Family Educational Rights and Privacy Act of 1974 (FERPA).
Getting Started with Starfish at Fredonia
Getting started is easy! Access Starfish by logging into your account using the STARFISH login link at the left of this page. This will take your to the Home page of your Starfish Dashboard. Your Home page includes access to a customizable profile, notification settings, and personalized Success Network.
View the Starfish 'Getting Started Guide' for Students.
Set Up Your Profile:
Customize your profile to let others know more about you, and to choose how you will receive messages from Starfish.
Login to Starfish using your e-services username and password.
Open the navigation menu and click your name, and then Profile to open your profile.
Update your phone number and cell phone number.
Customize your profile by uploading a photo of yourself and adding a secondary email address for receiving Starfish emails.
Click the Submit button to save your updates.
Receive Text Message Notifications:
You are able to receive notifications sent to your mobile phone.
Enter the email address of your mobile phone in the Alternate Email field. This address will be a combination of your phone number plus carrier information. This format is specified below, and can also be seen by clicking on the mobile icon next to the Alternate Email field.
For example, if your provider is AT&T, you would enter your phone number (with the area code) followed by @txt.att.net (8885551212@txt.att.net)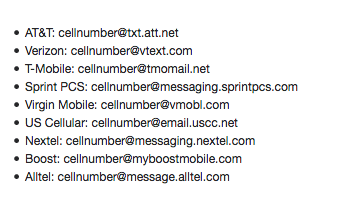 Check the Also send notifications to my alternate email address radio button.
Click the Submit button to save your updates.
Connect With The People Who Can Help You:
My Success Network:
Select My Success Network from the navigation menu to display your personalized network. This channel lists the people and resources that are available to assist you. For each person or service listed, you will find contact information, supporting websites, and, if online scheduling is enabled, a link to schedule appointments.
The Services that are most relevant to you are displayed first. Select Show Other Services at the bottom of the page to see additional services.
Your Dashboard:
Click the Dashboard navigation item.
The right hand column of your Dashboard highlights items that require your attention and may include alerts related to your class work, recommended referrals to campus support offices to help you succeed, and Kudos from your faculty/instructors.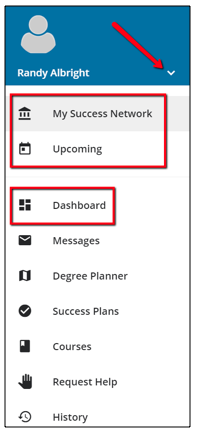 Can I flag myself if I need help or have questions?
Help is available! If you have a concern that is impacting your success, you will be able to request help via Starfish, and either your instructor or a member the Starfish Team will assist you.
Click on the "Raise Your Hand" navigation item. Select one of the topics that is relevant to your needs, and be sure to add detailed comments about your request so the appropriate staff or faculty member has the information they need to best assist you.