Playing to their Strengths: Three Fredonians find themselves at the heart of downtown Buffalo's economic turnaround.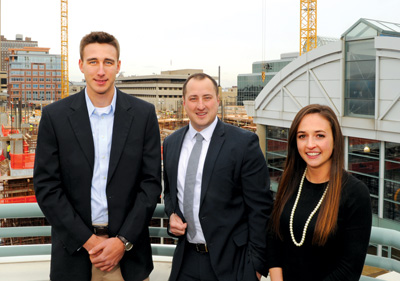 From left, Taylor Gahagen, '11; Nik Fattey, '02; and Madison Brown, '13.
---
You can't miss them as you drive along Interstate 190 through downtown Buffalo.
Two giant yellow cranes tower above the First Niagara Center, jumping out against the bright blue sky and the white puffy clouds. Below them is a flurry of activity. Dozens of construction workers stay busy at their craft amid a forest of sprouting steel beams. Their breath fogs up around their moustaches in the near-freezing temperature, but they don't seem to mind the chill. They're all too happy to be a part of something big. Something special. Something for which downtown Buffalo has been thirsting.
Progress.
Across the street, though protected from the elements, three SUNY Fredonia graduates work just as diligently — and as proudly — to make sure that the efforts of their outdoor counterparts will be fully realized in a few short months. That's when the doors of the highly anticipated HARBORCENTER — the new, $172 million downtown Buffalo development initiative spearheaded by Buffalo Sabres Owners Terry and Kim Pegula — will open. A hockey and entertainment facility, it will consist of two ice rinks, a high-performance training center, a two-story restaurant and sports bar, a variety of street retail space, and a five-story parking ramp when it opens in Fall 2014. A 205-room Marriott hotel is set to follow in May 2015. Business and community leaders across Western New York believe it will be the single biggest tourism attraction the region has seen in decades — and Nik Fattey, '02; Taylor Gahagen, '11; and Madison Brown, '13, are among those leading the charge to bring an estimated 500,000 visitors to Buffalo annually.
The paths these Blue Devils (all three played NCAA Division-III athletics during their time on campus) have taken to their present positions have varied, but all three attest that their time at Fredonia helped prepare them for the jobs they have today — and the chance to make a difference in Western New York's economic future.
As Vice President and Director of Hockey, Mr. Fattey is working to create a world-class destination for hockey players, coaches, scouts, fans and families, and to ensure that the HARBORCENTER is an elite, internationally recognized, hockey development center. Designed to target youth and amateur players and tournaments of all ages and skill levels, it will offer 11 locker rooms, a state-of-the-art meeting room, and a high-performance training facility capable of improving the development of players and coaches at all levels.
Among the future facility's primary lures are two year-round, first class ice rinks with a combined seating capacity of nearly 2,000. When coupled with the Sabres' home ice in the First Niagara Center, it will be the only three-rink complex in the entire National Hockey League (NHL).
Fattey was a great fit for this opportunity, as hockey has been part of this Western New York native's DNA his whole life. Starting as a child on an outdoor rink across from his elementary school in Hamburg, N.Y., he went on to play hockey at St. Francis High School (which inducted him into its Athletics Hall of Fame in 2008). He continued to play in college, first at Oswego, and later at Fredonia upon transferring in 2000. He graduated with a History degree in 2002.
"His connection to this area's hockey community will be another asset for our HARBORCENTER team," HARBORCENTER President and well-respected business leader John Koelmel said at the time Nik's appointment was announced. "With his finger on the pulse of hockey in Western New York, and the resources that we will have available at HARBORCENTER, we are eager to see Nik bring hockey in this city to a new and exciting level."
So how does a History major wind up among the leaders of a major economic development initiative?
"Actually, I always wanted to be a college hockey coach. That was the goal," Nik explains. "Becoming a History major, which also interested me, would have allowed me to become a teacher, which would have allowed me to work at a high school and coach (a high school team) while pursuing my master's degree," which was required for any collegiate coaching position.
He was pursuing that degree when an unexpected detour arose — an opportunity too good to pass up.
"I was given the chance to work as a scout for the Sabres, so those grad school plans had to go on hold," he says with a smile.
Nik served as a scout for the Sabres for eight years, first as an amateur scout starting in the 2005-06 season, and then as a pro scout beginning in the 2011-12 season.
When the team changed ownership in early 2011, the Pegulas' arrival signaled an era of new hope — not just for the team, but for the region. They wasted no time in making their presence felt, contributing money and resources to aid in the renovation of Buffalo's waterfront (now known as the Canalside District) to allow for bigger summer concerts and year-round events.
The development happening in his arena's backyard inspired Mr. Pegula to look at his front yard, too. The Webster Block, a 1.7 acre, city-owned site which contained only a parking lot, across from the First Niagara Center, held great potential to him.
"The story goes that Terry looked out his office window and said, 'I want to change this. I want to make this better for the region,'" Fattey recounts. "He said, 'Why not create something great…something that doesn't just focus on the Buffalo community, but on the world community?'"
Pegula's timetable was unexpectedly aided by the NHL's lockout at the start of the 2012-13 season. With much of his personnel suddenly idled, he took that opportunity to develop a proposal to buy the land from the city, and his bid was accepted.
"We really made the most of the extra time and got ready to seize the opportunity," says Fattey.
Ground was broken in April 2013, with an eyebrow-raising grand opening target date just 17 months later. All totaled, the complex will create 100 new jobs when it opens next fall, although the team consisted of just seven people as of Dec. 31.
Included in that small but mighty "First Team" are Mr. Gahagen and Ms. Brown.
Taylor, who went on to complete an M.B.A. at Canisius College after earning a bachelor's degree in Business Administration, serves in a marketing capacity as Digital and Promotions Coordinator. A Williamsville, N.Y., native, he completed internships with the Buffalo marketing communications firm of Travers Collins, as well as Canisius College's Athletics Department. The former Blue Devil baseball infielder joined HARBORCENTER following a brief stint as a market development specialist with Ingram Micro, a wholesale provider of technology products and supply chain services.
Brown completed a double major in Sport Management and Public Relations, and added a minor in Business Administration. The native of Wheatfield, N.Y., also played defense for Fredonia State's soccer team, serving as captain her junior and senior years.
She took advantage of internship opportunities, creating a résumé that included positions with both the Sabres and the Buffalo Bisons minor league baseball team as an undergraduate. Her capstone experience as a digital media specialist with the Sabres proved to be exceptionally valuable. She mainly wrote feature stories for the team's website, but also developed game recaps, edited video footage after Sabres and Buffalo Bandits (professional lacrosse) games, and published them online. Word of her talents and work ethic eventually reached Nik, who invited her to work after graduation at a local hockey league he operates. Just weeks later, however, he realized she was capable of even bigger things, and added her to the HARBORCENTER team as Assistant Program Coordinator.
Fattey marvels at the skills his new Fredonia colleagues have. "I can't believe how capable they are for being so young," he says. "I've worked with a lot of young folks, either through coaching experiences or internships with the Sabres, but these two can handle anything you throw at them."
While Taylor's and Madison's degrees may seem to have given them a direct path to their careers, Nik is quick to credit his History background for helping him throughout his career.
"The research skills, finding evidence to support your thoughts, and being able to pull from different sources to get your point across – these are things I learned at Fredonia," he says. "Whether you're looking at draft values of potential future NHL players or development research, those analytic skills definitely come into play."
With the HARBORCENTER, for example, the group is "borrowing" a lot of ideas from international sports, including New Zealand rugby players, Jamaican sprinters and the Mexican Soccer Federation.
"If there's a good player development idea, we want to implement it at the HARBORCENTER — or better yet, mold it to make it our own. My History background has given me a leg up in this area, because I know where to look for useful information," Fattey attests.
All three chose Fredonia for a variety of reasons, although distance from home, campus/enrollment size and affordability were all high on these Western New Yorkers' lists.
"I liked the smaller school atmosphere," says Taylor, who was recruited by Baseball Coach Matt Palisin. "If you didn't know somebody's name, you at least knew the face. It made it feel a little more 'homey.'"
"Walking around Fredonia just felt natural," adds Madison, one of Coach Chris Case's top soccer recruits in 2009. "I felt very comfortable and at home on campus, unlike any other school I visited."
Fattey especially liked the village of Fredonia and the campus' strong arts persona. However, his influences extended well beyond his hockey coach, Jeff Meredith. Nik's parents, Craig and Marcia (Strobel), '74, Fattey, are both proud Fredonians as well.
"I was around Fredonia an awful lot growing up," Nik attests. "My mom and dad were heavily involved in the music program, and are still involved every year with Alumni Weekend (organizing the annual 1970s Reunion Jazz Ensemble concert)."
His campus connections don't stop there, as younger brother Marc, '04, followed in Nik's footsteps — and skate grooves. He also played hockey for the Blue Devils, and earned a Visual Arts degree. Today, he works for a law firm in downtown Buffalo.
In addition, Nik's wife, Catherine (Reilly), '04, is also a Fredonia graduate, having earned a History degree of her own — despite having never met Nik while they were on campus together.
"I know, it sounds crazy, but we didn't meet until after we graduated," he laughs, adding that she was very involved in intramural sports at Fredonia and met most of her best friends on campus. Nik and Catherine still live in Hamburg, and have two children, Liam and Bridget.
Nick, Taylor and Madison fully appreciate the magnitude of the project with which they are involved, and the potential it has for downtown Buffalo and Western New York as a whole.
"It's unbelievable. The positive energy is huge," says Nik of the excitement with which friends and even complete strangers have shown him. He describes HARBORCENTER as Terry and Kim's "gift to this city," a privately funded economic engine that's coming to fruition in only a year and a half. "It's amazing, and any ideas we have to offer are always warmly encouraged and considered."
"It certainly makes it sweeter to see all of this happening in my hometown," Taylor adds. "I am grateful to be a part of this team and have the opportunity to contribute to the success of the project and everyone that it will impact."
"I feel extremely honored to be a part of this project, as well as downtown Buffalo's revitalization," Madison says. "Buffalo has made tremendous strides recently to improve and beautify its outer harbor, and this is the next step in that process. I'm very excited for the year ahead!"
Moreover, this project isn't an accident. Fattey points out that Terry spent a lot of time in Olean, N.Y. (about 90 minutes south of Buffalo), and Kim is a Rochester, N.Y., native. Nik is particularly impressed with the lead role Kim has taken in the project, and how she wants to ensure that it's done in a first-class manner. He finds the Pegulas' work ethic to be very similar to that of his own parents — something that continues to inspire him to this day.
"My parents followed their passion," he explains. "They played in bands, taught lessons — they love music and did whatever it took to make sure it was a major part of their lives. They went 'all-in.' This is a chance for Buffalonians to play to our strengths — to our passion."
He also notes that 27% of all current NHL players are from either New York or Ontario. In fact, one fifth of the 2014 U.S. Olympic Hockey Team hails from Western or Central New York (not including Sabres Goaltender Ryan Miller).
"It's a perfect fit," he says. "The HARBORCENTER is going to be one of our region's greatest sources of pride."
Who wouldn't want to be a part of that team?