'Be the Change' is message Fredonia alumni will convey at Writers@Work series
Three alumni – each of whom has become a changemaker in their respective career field – will speak at a three-day virtual residency in the Writers @ Work Young Alumni Changemakers series at Fredonia in early April.
"We are pleased to welcome back Zachary Beaudoin, '17; Justin Cunningham, '15, and Jakera Cooper-Willis, '15," said Department of Communication Assistant Professor Amanda Lohiser, a member of the Writers @ Work committee. The Zoom series is free and will be held Thursday through Saturday, April 8 to 10.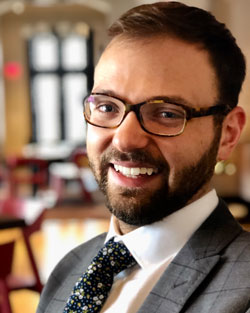 After graduating with dual majors in English and International Studies, Mr. Beaudoin went on to receive a M.S. in Negotiation and Conflict Resolution at Columbia University, where he currently serves as a student engagement coordinator.
Mr. Cunningham, who received a degree in Business Administration: Finance, is executive director of SocialWorks, a youth empowerment charity that has invested $10 million into Chicago over the last four years. Through the non-profit, Cunningham supports five initiatives that affect thousands of youth annually and also assists small-business owners improve their financial literacy.
Working with brands, influencers and entrepreneurs to bridge the food gap in underrepresented communities is a goal of Mrs. Cooper-Willis, who earned a degree with a major in Psychology. She also developed and markets Oat Butter, a healthy spread, through Worthy of Well Done, LLC, which she founded, and is passionate about changing how people access, eat and think about food.
Numerous Zoom presentations involving one, two or all three alumni will be held throughout the residency; some can be viewed by the public, while others will be available to select classes or be open to all Fredonia students.
In the "Be the Change," panel discussion on Thursday at 6:30 p.m., all three alumni will discuss their current projects, elaborating on how they got started and how SUNY Fredonia help them get there, and also answer questions about how to turn a big idea into a practical reality.
"I look forward to sharing my experiences about my time at Fredonia, and most importantly what kept me there all four years," Cooper-Willis said.
"It's all about stepping stones, and one of those for me was Chautauqua Hall and Fredonia's campus," Cunningham said. "I look forward to sharing my experience and helping students make the most of theirs."
Beaudoin recalls he was "searching for something beyond my small farm town" when he arrived at Fredonia. "What I found was a world of opportunity and a community of supporters who still mentor and encourage me in my endeavors," he said.
The session is open to the public and can be accessed online.
Cunningham and Cooper-Willis will lead a discussion focused on how to leverage the power of social media and influencers to advance one's business and goals in "The Power of Influencers and Social Media." The session will be given on Thursday at 8 p.m.
The session is open to the public and can be accessed online.
Beaudoin will join an upper-level English writing course, focused on argumentative writing, in a Friday morning session.
"Often overlooked as a soft skill, the ability to craft a strong argument may be the most important skill to learn. Whether a negotiation, an intractable conflict or a political speech – your ability to argue your perspective will be fundamental to your success," Beaudoin said.
The session is open to the public and can be accessed online.
All three alumni will participate in "Developing Your Brand Identity," a session open to Fredonia students, on Friday afternoon.
Additional sessions will be held for the Enactus chapter as well as in English, management and music industry classes and the Honors Program. A writing workshop and session devoted to developing a brand identity will be open to current students.
The alumni residency series has been collaboratively organized by Writers @ Work, Fredonia Convocation, the School of Business, the Department of English, the Intercultural Center and the Department of Psychology.
Writers @ Work is sponsored by the Faculty Student Association, Fredonia Alumni Association, Fredonia College Foundation, Fredonia College Foundation's Carnahan Jackson Fund for the Humanities and Mary Louise White Fund. The residency is additionally funded by the following sponsors: Fredonia Convocation, School of Business and Department of English.
The series is made possible by a partnership with Admissions, Alumni Affairs, Business Club, Career Development Office, Enactus, the Fredonia College Foundation, Fredonia Convocation Committee, the Honors Program, Music Industry, School of Business and the departments of Business Administration, English and Psychology.