'President's Own' Marine Band plays to near-capacity crowd at Fredonia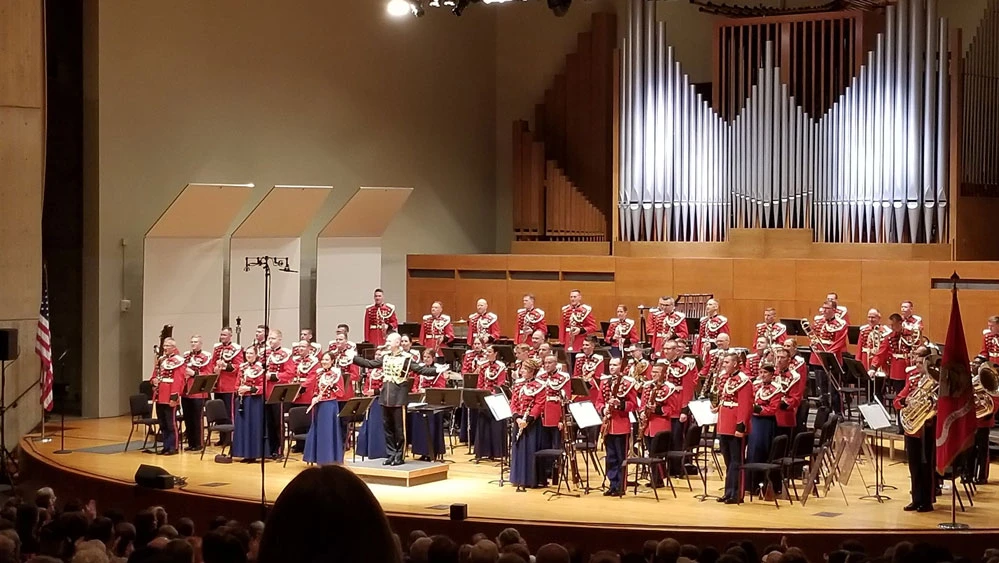 A total of 1,001 people filled King Concert Hall at Rockefeller Arts Center recently for the performance by one of the nation's finest military musical ensembles. It was "The President's Own" United States Marine Band's fifth visit to Fredonia since 1937.
"It was fantastic to see so many people join us for this special concert," said Jefferson Westwood, director of Rockefeller Arts Center. "We are honored to be able to present events like this, and so many others, for our community to enjoy."
The Fredonia performance was the fourth stop on the ensemble's October tour. Other performances include Carnegie Hall in New York City, Symphony Hall in Boston and the Eastman Theatre in Rochester, N.Y.
Wednesday's performance was also a homecoming for one member of "The President's Own." Bassoonist Staff Sgt. Stephen Rudman, of LeRoy, is a 2015 Fredonia graduate who studied with Laura Koepke, interim dean of the School of Music.
The United States Marine Band is America's oldest continuously active professional musical organization. "The President's Own" is celebrated today for its role at the White House and its dynamic public performances, which total more than 500 annually.
This 42-piece ensemble was established by an Act of Congress in 1798. Its mission is unique — to provide music for the President of the United States and the Commandant of the Marine Corps. Marine Band musicians appear at the White House an average of 200 times a year with performances at state dinners, receptions, South Lawn arrivals and events of national significance.
Each fall, the Marine Band travels throughout the United States for its annual concert tour, a tradition initiated in 1891 by Sousa, who was the band's legendary 17th director.