2019 graduate to expand Fredonia legacy in doctoral program
Fredonia senior Kevin Aumiller is the latest link in the growing connection between Fredonia's Science program and Johns Hopkins University.
The Molecular Genetics major will enter the Cell, Molecular, Developmental Biology and Biophysics program at Johns Hopkins this fall. That's no modest accomplishment; the cell biology program is ranked No. 2 in the nation by U.S. News & World Report.
Aumiller will complete the Fredonia "trifecta" in the top-tier doctoral program that's actually tied, with Harvard University, for the prestigious No. 2 ranking. He will join fellow Molecular Genetics grads Brian Guy, '18, and Josh Blundon, '17, in the university's Krieger School of Arts and Sciences.
"This, on its own, is pretty fantastic, given that it's the second-ranked cell biology program in the country. However, what makes it really noteworthy is that Kevin is the third (Fredonia) student in the past three years to be accepted to this program," Assistant Professor of Biology Nicholas Quintyne said. "Now that is a remarkable track record, I think."
The 2015 Clarence Central High School graduate compiled impressive academic credentials in the classroom and research lab at Fredonia, beginning with acceptance into the Honors program as a first-year student. He went on to compile a 3.8 GPA and join three honor societies: Alpha Lambda Delta, Golden Key and Beta Beta Beta.
Aumiller looked at undergraduate schools that had high profile science programs, but was clearly impressed by Fredonia's science facilities and faculty, as well as an accepting and encouraging environment that other campuses lacked.
The new Science Center made a huge impact on his choice to attend Fredonia, Aumiller said, "but the wow factor – what really attracted me here – was the amount of equipment and stuff in the Science Center. It's impressive for a school this size, I believe, everything from the confocal microscope to the x-ray diffractometer." Instruments of this caliber are typically associated with much larger schools or research universities, he added.
Aumiller said Dr. Quintyne, his faculty advisor, has been a great influence. "Throughout my time at Fredonia, he encouraged me to improve, to push boundaries of who I am as a student, encouraged me to apply for internships and to big-name grad schools as well," he said.
"Kevin had everything going for him - exceptional research experiences here with Dr. Matt Fountain (in the Chemistry and Biochemistry Department) as well as an REU (Research Experience for Undergraduates) at Marquette University last summer," Quintyne reported. "His grades are excellent, and he has clearly demonstrated to his professors here at Fredonia that he's got a great deal of talent and an excellent mind well-suited to graduate research."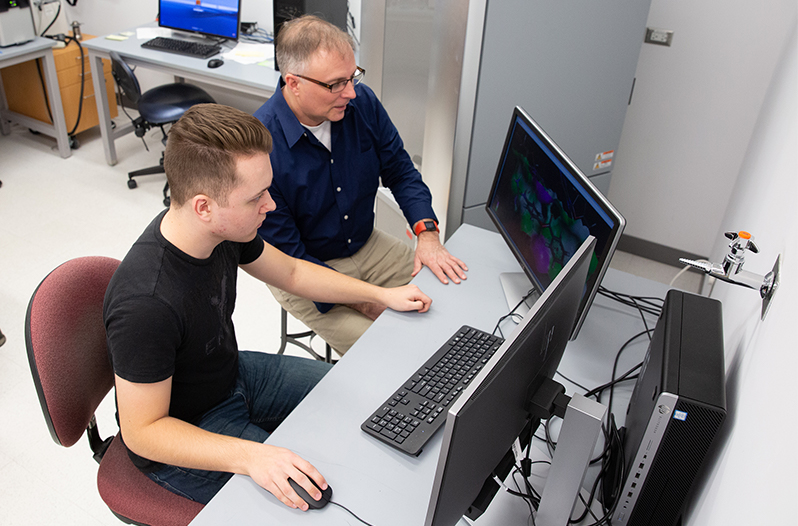 Biochemistry Professor Matthew Fountain, who has had Aumiller in his research lab for the last two years, lauded Aumiller for his ability to do research and mastery of a wide range of molecular biology, biochemical and genetics techniques that are typically taught at the graduate level.
"He is enthusiastic about learning new techniques and instrumentation and has extensive hands on experience with the majority of instruments in the Biology and Chemistry and Biochemistry Departments," Dr. Fountain said.
Aumiller credits Fountain for helping him develop skills "that really set me apart" among graduate school applicants. He impressed interviewers with the amount and breadth of research work done in the classroom and lab, along with his understanding of the material.
Associate Professor of Biology Scott Ferguson said the Johns Hopkins duo are "big fans of the experiences that Fredonia provided to them." Their track record there, along with many other students accepted into top graduate schools in the country, such as Berkeley, Penn and Cornell, really speaks to the benefit and value of a Fredonia Molecular Genetics degree, Dr. Ferguson said.
"The opportunities to do cutting edge research in lab courses and with faculty is remarkable," added Ferguson, who had Aumiller in Genetics Lab (BIOL 238) and Molecular Genetics Lab (BIOL 437). "The types of experiments that they are doing at Fredonia are on par with what many graduate students would experience during their Ph.D. training. It really gives them a leg up both in their grad school interviews as well kick starting their thesis research once they join a lab."
Department of Biology Chair Patricia Astry said the Molecular Genetics program, directed by Ferguson, has produced a number of graduates who enter medical school. "It's a strong program that has graduated a large number of high achieving, successful and accomplished students," she said.
The Johns Hopkins' connection actually predates the two current Fredonia students. Quintyne received his Ph.D. there and is still connected to the CMDB program, but he doesn't go out of his way to promote it over another school. He'll readily discuss his experiences there and tell students what they may expect at graduate school in general and at Johns Hopkins specifically. Quintyne provides additional information to students who ultimately apply there, but says it's really a student's decision to determine what program is the best fit for them.
Quintyne reports that Messrs. Guy and Blundon are both doing well and both make a note of saying how well Fredonia prepared them for the challenges presented by the CMDB program. "The courses – and research experiences – they took here have left them in great shape for what they are now doing," he said.
Aumiller knew Guy and Blundon while they were students at Fredonia and both recommended the CMDB program. His career goal after completing graduate school is to become a biology professor at the university level.