Acclaimed 'Lucky Man' author Brinkley to give readings at Fredonia
Fiction writer Jamel Brinkley will give a craft talk and read excerpts from "A Lucky Man: Stories," a collection of nine powerful stories set in Brooklyn and the South Bronx that have cast him as a significant new voice in fiction, at Fredonia as part of the Mary Louise White Visiting Writer Series established through the Fredonia College Foundation.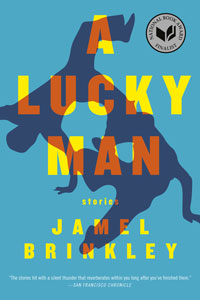 "Lucky Man" was a finalist for prestigious honors that include the National Book Award for Fiction, the Story Prize, the John Leonard Prize and the PEN/Robert W. Bingham Prize, and was the winner of the 2018 Earnest J. Gaines Award for Literary Excellence.
"The stories hit with a silent thunder that reverberates within you long after you've finished them," wrote the San Francisco Chronicle. Of his collection, The New Yorker said, "Each story is a trenchant exploration of race and class, vividly conveying the tension between social codes of masculinity and the vulnerable, volatile self."
O, The Oprah Magazine, wrote, "With equal parts precision and poetry, these nine audacious stories step into the minefields awaiting boys of color as they approach manhood in Brooklyn and the Bronx – testing the limits of relationships, social norms and their own definitions of masculinity."
Mr. Brinkley will conduct a craft talk on Thursday, Oct. 3, at 5 p.m., and give readings from "Lucky Man" on Friday, Oct. 4, at 5 p.m., both in McEwen Hall Room 209. A book signing and reception follow the reading. Both events are free and open to the public. The writer series is also sponsored by the Department of English and the Convocation Committee.
Writings by Brinkley have been selected twice, in 2018 and 2019, for "The Best American Short Stories." He has received awards and fellowships from Kimbilio Fiction, the Callaloo Creative Writing Workshop, the Napa Valley Writers' Conference, the Tin House Summer Workshop, the Bread Loaf Writers' Conference, the Lannan Foundation and the Wisconsin Institute for Creative Writing.
Brinkley is a graduate of the Iowa Writers' Workshop and was the 2016-2017 Carol Houck Smith Fellow at the Wisconsin Institute for Creative Writing. He is currently a 2018-2020 Wallace Stegner Fellow in Fiction at Stanford University.