Alumna Kaleigh Vogan wins statewide education award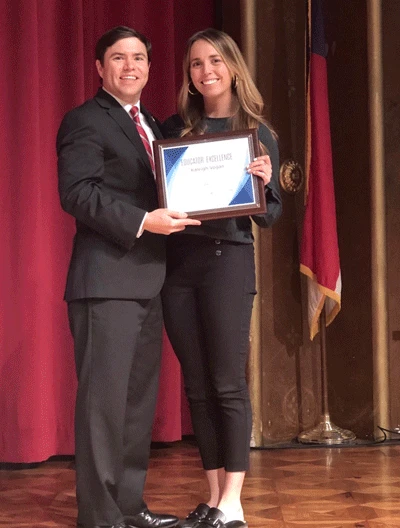 Starting as a babysitter, Kaleigh Vogan has always worked with children, but she can trace her "ah ha" moment – when she knew she destined to become a teacher – to an experience in high school. She "interviewed" a class of kindergartners and fifth graders for an art project and made an astute observation.
"I was fascinated with the differences between the learning styles and passion between the two grade levels. Some students were willing to make mistakes and open to sharing, while others were filled with self-doubt and the fear of failure," Ms. Vogan recalls.
"I knew then I wanted to work in the school systems and not only teach academics, but also teach students how to believe in themselves, to take chances, and to be proud of their (hard) work."
To make that happen, the 2007 graduate of Palmyra-Macedon (N.Y.) High School enrolled at Fredonia to earn a B.S. in Childhood Inclusive Education, with a concentration in History, in 2011, and an M.S. in Literacy Education, Birth-6, in 2013.
"My first four years at SUNY Fredonia were not enough! I wanted to soak up every bit I could," Vogan said. "The school, especially the program, helped me grow not only as an educator and student, but also as a person."
"My first four years at SUNY Fredonia were not enough! I wanted to soak up every bit I could," Vogan said. "The school, especially the program, helped me grow not only as an educator and student, but also as a person."
Vogan did, indeed, "grow," into a phenomenal educator in North Carolina, near the state's acclaimed Research Triangle, beginning her career as an Exceptional Children instructor in the Chapel Hill-Carrboro School District in 2013. She won the state's Exceptional Children Educator of Excellence Award five years later.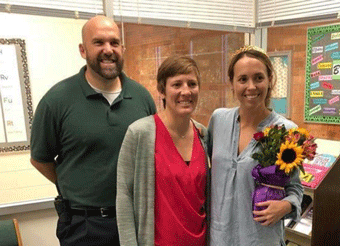 That honor, bestowed by the North Carolina chapter of the national Council for Exceptional Children, recognizes teachers whose leadership, dedication and service in extracurricular and nonacademic activities have improved the quality of education for exceptional children and youth. She was nominated by her peers.
"Kaleigh brings a genuine level of joy and excitement to every relationship she has," said David Bouldin, EC compliance and program coordinator in the Chapel Hill-Carrboro School District. "She is invested in all of her families and takes the time to foster strong relationships. She strives to build and encourage environments that focus on the academic, social and emotional growth of each child."
A sixth grade EC teacher at Phillips Middle School for six years, Vogan co-taught English Language Arts, Science and Math and taught Academic Success, a class dedicated to focusing on specific student needs (academic and behavioral) and intensive reading.
As a member of the sixth grade team, Vogan facilitated the transition from elementary to middle school for children with special needs who often require more attention and support.
Vogan, also named Teacher of the Year at Phillips in 2018, relies on her experience and training gained at Fredonia, as well on her sharp intuition and ability to "read students," while incorporating data into her work.
"We learned how to teach using research-based practices, while simultaneously applying them in a real-world setting. This trial-and-error, real lifestyle was more effective than just sitting in a classroom. I believe this helped me learn how to be flexible, how to adapt and how to make connections at a younger age, which are all valuable skills for a teacher to possess."
Vogan remembers several professors from her master's program – Drs. Cindy Bird, Jennifer Ro, Kay Chen and Clara Beier – but Dr. Bird holds a special place in her heart. "She truly opened my eyes to the complexities of literacy and redefined my understanding of what it is to have the ability to read.
A highlight of Vogan's graduate education was joining Bird and a graduate school colleague in giving a presentation, "Close Reading and the Common Core in the Classroom: Finding, Diagramming, Questioning and Analyzing Evidence in the Text," at an International Literacy Association Conference in San Antonio, Texas.
Vogan moved to Panama City Beach, Fla., in 2019 when her boyfriend, Anderson Gardner, an E5 (underwater construction mechanic/M2) in the U.S. Navy, was relocated. She is an eighth grade English Language Arts and Remedial Reading teacher in the Bay District School system.
Course work in Fredonia's literacy program, Vogan said, "helped me become an even stronger special education teacher. I was able to use a number of tools and resources from those classes during my time at Phillips Middle School. I know I was successful with helping my students and ultimately earning these awards because of the foundation I gained from my six years at Fredonia."