Applications are now open for the 2020 Claudette Sorel Piano Competition and Fellows Program
The Claudette Sorel Piano Competition and Piano Fellows Program is open to talented young pianists, ages 15 to 18.
Now in its fifth year, competition organizers have intentionally designed the competition to be a uniquely positive and welcoming experience, creating a space for participants to present their creative passion and vision in a nurturing environment.
The application deadline to apply is Sept. 15; completed details are online at https://www.fredonia.edu/music/sorel-piano-comp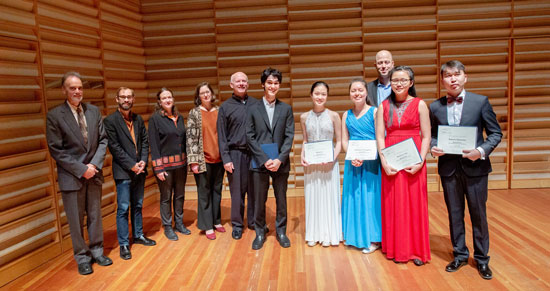 First Prize is a $2,500 cash award, a recording of the winner's live performance and a copy of judges' written notes.
An additional $1,250 in cash awards will be awarded at the discretion of the judges. Past awards have included the Artistic Excellence Award, Best Chopin Award, Best Programming Award and Best Contemporary Piece Performance Award.
All Finalists will receive a recording of their live performance and a copy of the judges' written notes. For more information, see the video.
Competition judges include School of Music faculty Dr. Eliran Avni, Fr. Sean Duggan, Dr. Anne Kissel and Dr. Nick Weiser.
Now in its second year, the Piano Fellows program will be held in conjunction with the piano competition and is designed for talented pianists (ages 15-18) who are serious about their craft and are looking for an intensive musical experience, but who may not yet be ready for the competition circuit. Highlights include an individual lesson, master class, an opportunity to perform on the Fellows recital, behind-the-scenes competition experience, and more. It is described as an excellent way to prepare for college/conservatory auditions.
At this time, the LIVE Final Round for the competition is scheduled for Sunday, Nov. 8, in the Juliet J. Rosch Recital Hall on the SUNY Fredonia campus, with the Fellows Program running Nov. 7 and 8. "We remain optimistic that we will be able to hold the live final round and Fellows Program on campus in November," said Dr. Avni, who serves as competition director. "This is a special event and we look forward to the energy and talent of these young pianists every year. Of course, the health and safety of everyone involved is our highest priority. If needed, we will adjust the format of the final round based on circumstances as we get closer to the event. In the meantime, stay safe, keep practicing, and submit your video application!"
The competition is named for pianist and SUNY Distinguished Professor Claudette Sorel, who taught piano at Fredonia for many years, and is supported by a foundation she founded. The Sorel Organization intends to create opportunities for women in composition, conducting, piano, voice and film scoring and to keep musical excellence alive while expanding the boundaries for women in music.