Art Forum students forge partnership with middle schoolers to create school mural
A colorful mural designed and painted by Fredonia Middle School students will adorn a school hallway, thanks to the vision of art teacher Mackenzie Sheldon and a mentoring partnership she created with a student group at SUNY Fredonia.
Through an affiliation with Art Forum, members of the middle school's Art Club are seeing how student artists go about their work. "This experience will give them the opportunity to work with other artist role models, discuss how artists brainstorm ideas and possibly learn new painting techniques," said Ms. Sheldon, a 2015 Fredonia alumna.
"Brainstorming can be a place where middle school students struggle, being such an abstract concept. The mural being created will become a piece of FMS visual history, helping to inspire feelings of pride and imagination in the students who see it," Sheldon said.
Art Forum members have considerable experience working on a large scale so they can generously dispense advice and perspective on how the students can go about making their ideal mural. "The mission is to work in collaboration with the (middle school) students and allow them to create something they are going to be proud of," explained Angeline Ginsberg, Art Forum president and a senior Ceramics major from Lindenhurst.
"After our first meeting with the sixth graders in the club, they were eager to start brainstorming ideas and already came up with designs on paper that we are going to expand on," Ms. Ginsberg said. "They like the idea of using the letters FMS and words that represent the school." School colors will also be incorporated.
According to school Principal Paula Troutman, Sheldon, who has B.A. in Visual Arts and New Media from SUNY Fredonia, "got the ball rolling" to create the partnership by drawing on connections she has with her alma mater that included Associate Professor of Visual Arts and New Media Peter Tucker, who put Sheldon in touch with Art Forum.
Mr. Tucker, the group's faculty advisor, recalled Sheldon reaching out to him to see if there was a good way to get her students and SUNY Fredonia students working together. As it turned out, Art Forum students "loved the idea" of collaborating with the middle schoolers, Tucker recalled.
From Ms. Troutman's perspective, the mission of the partnership is to create a mentorship between college students and her middle school students that provides them with a real-world connection to the work they do in an art classroom. "I am hopeful that the piece of art that is created brings positivity, pride and a stronger student ownership of their school," she added.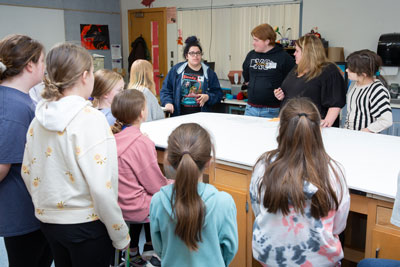 The school's Art Club is large – with over 40 members in grades 5 to 8 – who meet on alternating weeks in small groups. Members of Art Forum's executive board are meeting regularly with small groups though the end of the semester.
The aspiring artists have submitted rough sketch ideas for the mural and reviewed them together, identifying what elements they liked. Sheldon compiled a list of their findings that she synthesized into a final composition. She then showed the students the composition and received additional feedback on what else they'd like to see in the mural.
"They have been brainstorming ideas for this mural that help represent feelings and ideas associated with their middle school experience," Troutman said.
"We are early in the partnership, but our hopes are they get to see how older, more advanced art students brainstorm, design, create and master a product of artwork," she added. 
The mural will depict a cast of diverse characters, created by a seventh grader, that represent the student body, and the words "brainstormed" by the students will float out on three ribbons. Create, fun, inclusion, courage and kindness are among the words, Sheldon said.
"The remainder of the space incorporates images that represent their experiences at Fredonia Middle School, as well as some interesting doodle elements," Sheldon added. FMS and the year will be included, too.
"The FMS students are excited to be able to work with SUNY Fredonia students," Sheldon said.
Art Forum students also give the nascent partnership a rousing endorsement.
"So far, our e-board is excited to work hands-on with the students. It's a nice break from our studio work and allows us to be collaborative with younger students who enjoy art just as much as we do," Ginsberg said.
Art Forum, one of the older student groups on campus, hosts creative projects and programs to help inspire art and campus wide events. Community engagement is of particular interest of current members.
The finished mural, to be created on a 4-by-8-foot panel of plywood, is expected to be mounted in the hallway near the middle school main office in early June, Sheldon suggested. "They are extremely excited to start painting," she added. Blocking in the large area of colors began last week.
"We are always looking for positive role models for our students and I believe this experience will give our students other role models, beside our teachers, to learn from and grow as artists and young adults," Troutman said. She sees the Art Forum partnership as "just the beginning" of new opportunities for SUNY Fredonia students to get into middle school classrooms to grow and learn.
"I am hopeful that this can be an ongoing partnership so that one day our hallways will be filled with positive, impactful artwork that helps to set the positive environment we want for our students," Troutman remarked.
"I think SUNY Fredonia is a great resource for our district, and I also think we can offer the students of SUNY Fredonia some great experiences as well," Troutman said. Partnerships in other subjects, such as science, math and social studies, could also be pursued.
Tucker is excited to see this campus and community connection, especially since it started with an alum reaching out. "I was also pleased that my middle schooler asked to join the Art Club after she found out that they would be working with college students," he said.