Artist to offer insight to her work with free lecture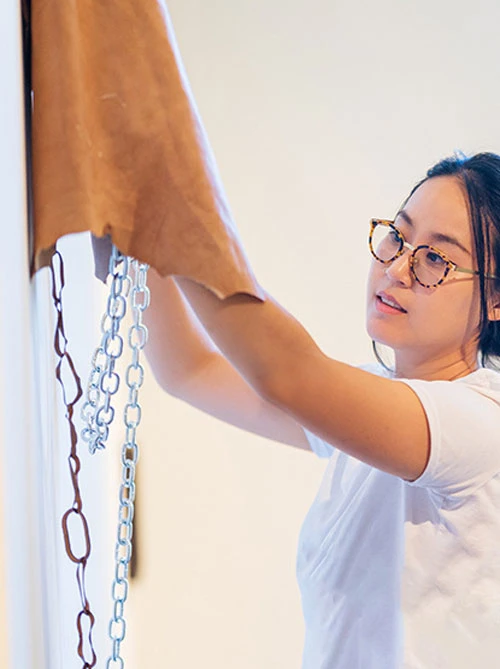 An artist whose work is featured in an ongoing exhibition at the State University of New York at Fredonia will share her insights in a Visiting Artist Program lecture scheduled for Friday, March 31 at 4 p.m. in McEwen Hall Room 209 on the Fredonia campus.
The lecture is free and open to the public.
Dahn Gim is an artist/educator currently based in the United States and South Korea. She is a participating artist in the exhibition "Mis/Communication: Language and Power in Contemporary Art" at the Cathy and Jesse Marion Art Gallery, located on the main level of Rockefeller Arts Center.
Gim writes of the sculptures featured in "Mis/Communication:" "My most recent sound sculptures series are deconstructed and reskinned with soft leather to resemble the shape, color, and texture of limbs and organs. As viewers come closer to the sculpture, they begin to hear the sound of female voices mimicking a car muffler noise, striving to be heard. The muffler's hybrid nature renders it both as a useless and inadequate automotive device as the humans it aspires to be. The result neither this nor that, mirrors my own struggle to gain a sense of belonging."
When working in her studio, Gim said she contemplates "the idea of hybridity and adaptation both in concept and materials."
Since completing her M.F.A. from UCLA in Media Art in 2015, Gim has exhibited her work internationally at venues such as Post Territory Ujoengguk in Seoul; Hammer Museum in Los Angeles; Somerset House in London; BASIS in Frankfurt; Art Souterrain in Montreal; El Museo Cultural de Santa Fe; and TAG bxl in Brussels.
Gim is an assistant professor in the Art and Design Department at Augsburg University in Minneapolis, Minn.
"Mis/Communication: Language and Power in Contemporary Art" runs through April 16. Gallery hours are: Tuesday through Thursday from noon to 4 p.m., Friday and Saturday from noon to 6 p.m. and Sunday from noon to 4 p.m.
Funding for the exhibition is provided by the Cathy and Jesse Marion Endowment Fund and The Friends of Rockefeller Arts Center, both established through the Fredonia College Foundation.