Commencement speaker and alumnus challenges the Class of 2019
Nelms: "Be the guardians of equity…and transform society."
As he addressed the Class of 2019 at Fredonia on May 18, Dr. Shaun C. Nelms felt commonality with the graduates sitting before him in Steele Hall.
"You will be expected…to leave a lasting impression on the world," Dr. Nelms said. "I understand this transition too well…as a proud graduate of the (Fredonia) Class of 1999."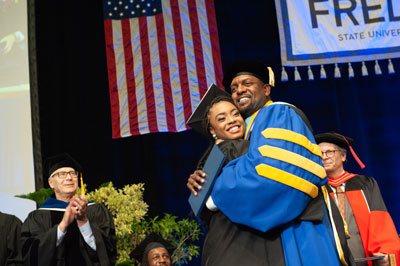 Dr. Nelms addressed graduates and guests at Fredonia's 152nd annual Commencement, where President Virginia S. Horvath conferred degrees at two nearly identical ceremonies, at 10 a.m. and 3 p.m. In all, more than 1,150 undergraduates, graduate students and advanced certificate recipients were eligible to participate. Dr. Horvath was joined by a processional party which included fellow members of the College Council, University Cabinet, Senior Class President Katherine Hanover, and other campus and community dignitaries.
Dr. Horvath congratulated all of the graduates and their families on their achievements, and thanked faculty and staff who helped them reach this momentous occasion. "Faculty and staff here have worked to help you find your voice and your passion and to develop your independence in thinking and responsible action," said Dr. Horvath, who is retiring in July after seven years as Fredonia President.
"From this point, it's up to you to show what Fredonians can do. Your employers, your communities, your families will see that you are indeed skilled, creative, connected, and responsible," Dr. Horvath continued. "We're counting on you to use everything you have learned, to continue to learn as new questions, challenges, and technologies arise, and to represent your alma mater proudly in all you do."
Dr. Horvath also encouraged graduates to stay connected to Fredonia after their time on campus is over. "As you advance in your careers, please help us continue to recruit the best students, build the network of successful alumni who can connect with students and programs, share your story with those who are skeptical about the value of higher education, and offer financial support for future students and this university," Dr. Horvath said. "We're counting on you to make a difference, and we'll be applauding you not just today but through your life."
Fredonia welcomed Dr. Nelms home as the keynote speaker. He is currently superintendent at East High School in Rochester, N.Y., where he has collaborated with the New York State Department of Education and others to improve graduation rates. The effort has dramatically increased graduation rates at the school. Dr. Nelms, a graduate of City Honors School in Buffalo, received a B.A. in Adolescence Education: Social Studies from Fredonia in 1999. Also a student-athlete at Fredonia, Nelms was a member of the men's basketball team that won the ECAC championship in 1995. Nelms was awarded an M.S. in Education, with a concentration in Educational Administration, in 2004 and an Ed.D. in K-12 School Leadership in 2013, both at the Warner School of Education at the University of Rochester.
The experience of leading the transformation of a once-failing high school shaped Dr. Nelms' challenge to graduates. "My challenge to you, as you embark on your next challenge, is to use the knowledge and skills, which were honed at Fredonia, to transform society," Dr. Nelms said. "Plant new seeds of equity for the next generation, so that generations to come will benefit from systemic changes you've created."
Ms. Hanover, who graduated Cum Laude as she received a Bachelor of Science degree in Music Industry, addressed her classmate with the message that Fredonia has prepared them for any situation. "Whether we are continuing on to graduate school, or are brave enough to leap into the job market, we are all on our way to new and exciting opportunities," Ms. Hanover said. "We all have Fredonia to thank for the knowledge we have acquired, while studying at this wonderful institution, and I can confidently say that we are all well prepared for whatever lies ahead."
Ms. Hanover represented the graduating class as they left a legacy in the form of a scholarship endowment fund to provide an incoming student the opportunity to fulfill their goals of a college education. Members of the senior class donated $20.19 towards the fund.
Other highlights included the awarding of the Lanford Presidential Prize from the Oscar and Esther Lanford Endowment of the Fredonia College Foundation.This year's recipient, Monica A. Manney, graduated Summa Cum Laude with a Bachelor of Arts degree in Communication - Journalism.
The National Anthem was performed at the morning ceremony by McKayla Weaver, who received a Bachelor of Music degree in Music Education, Summa Cum Laude. In the afternoon, the anthem was sung by Laura Cook, who received a Bachelor of Music degree in Music Education, Magna Cum Laude.
Faculty Marshals for the morning Commencement ceremony were retiring faculty and staff including Patricia Astry from the Department of Biology, Dr. Penny Hite from the Sport Management program in the School of Business, Mrs. Sandra Lewis from the Professional Development Center, and emeritus faculty member Dr. Kathleen Magiera from the College of Education. Faculty Marshals for the afternoon ceremony were Dr. Najia Aarim and Dr. Ellen Litwicki from the Department of History, and Dr. Joni Milgram-Luterman from the Music Therapy program in the School of Music.
Student Marshals are selected for their academic performance and service to campus and were recognized by President Virginia Horvath during the ceremonies. Marshals during the morning ceremony were Kayleigh Bates, Michael A. Conti, Sydney Deppas, Mary DiCioccio, Kathryn Fink and Molly Woodarek. In the afternoon, marshals included Marilia Riva Andrade, Rachel Clayback, Michael Earle, Nicole Perrine, Vanessa Raffaele and Laura Swanson.
Also recognized were 2019 SUNY Chancellor's Award for Student Excellence recipients Stephanie Wojnowski (morning) and Celina Kryk (afternoon).
The Mace Bearers were SUNY Distinguished Service Professor H. Joseph Straight of the Department of Mathematical Sciences during the morning ceremony and SUNY Distinguished Teaching Professor Robert Booth in the afternoon. They represent the most senior faculty members in years of service.