Communication department open house to mark major milestone
The red carpet will be rolled out – at multiple locations, in fact – as the Department of Communication celebrates its 40th anniversary during Fredonia's Homecoming weekend, Thursday through Sunday, Oct. 14 to 17.
Tours of Communication facilities across campus on Saturday, 11 a.m. to 1 p.m., form the centerpiece of the anniversary observance. Associate Professor and Chair Roslin Smith will be on hand on the first floor of McEwen Hall, near the Sheldon computer lab, to greet alumni and introduce a mini museum assembled by students and staff.
Inside the cabinets are pieces of communication equipment and devices from the 20th and 21st centuries. Old-time photos will also be on display throughout Homecoming.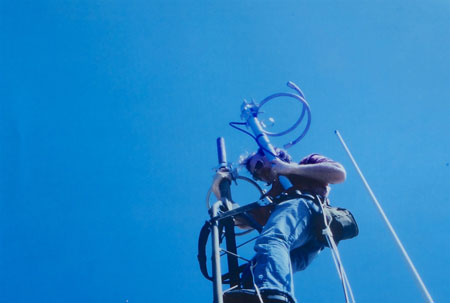 The student-compiled documentary of the WNYF television station, "Please Stand By," will be shown in the Sheldon lab during the open house. Audio of SUNY Distinguished Service Professor Ted Schwalbe describing the transition to digital editing in radio news classes that he taught will also be shared.
"I hope the alumni will get a kick out of seeing the mini museum, the photos of faculty who were here in the 1970s and be able to listen to Ted Schwalbe's audio recording," Ms. Smith said.
Visitors can tour Communication facilities elsewhere on Saturday, Oct. 16, also from 11 a.m. to 1 p.m. These include the offices of The Leader, the campus newspaper, in the second floor of the Williams Center; offices and studios of the multi award-winning Fredonia Radio Systems in the first floor of McEwen Hall and WNYF-TV studios in Hendrix Hall.
Three other facilities in McEwen will also be open during the open house. At Studio, G9, visitors can see firsthand how films are developed and shown. Student films will be screened in the G10 Classroom. G6, also known as the "Cage," which houses heavy equipment, can also be viewed.
Smith expects visitors will be impressed by new equipment at the television station and G9 Studio. "Similarly, the Leader has flourished over the years and should be a draw to journalism alumni. Finally, alums should take great pride in all those 'best of campus radio awards' at Fredonia Radio Systems," she added.
Current Communication students be stationed at all open house locations to greet alumni, provide information and answer questions.
"I am very proud of the students who work hard during the year and have been helping me put this together," Smith said.
Open house events are free and open to the public.