Devils honor captain, fall short, 5-2
The Fredonia State men's hockey team dropped a 5-2 game to Trine on Saturday. The Devils scored the game's first goal, then gave up the next four, before the teams settled on the final score.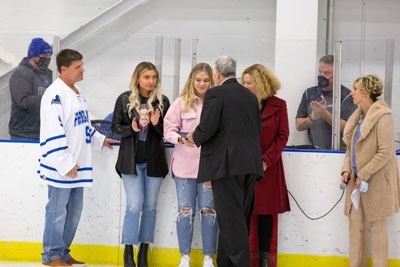 Fredonia State got on the board when Antonio Demacopoulos (Hickory Hills, Ill.) scored on a 5-on-3 power play 8:16 into the game. Craig McCabe (Webster) and Gregg Lee (Aliso Viejo, Caliif.) assisted.

Trine would answer back with a pair of goals before the end of the period, the second one coming on a power play.

Two more goals in the second put the visitors in command, 4-1.

The Devils would halve the lead at the 14:18 mark of the second when Matt Letmanski (Wheaton, Ill.) scored unassisted.

Trine added an insurance goal at the 13:38 mark of the third period.

Logan Dyck (Calgary, Alberta) was in goal for the second straight night for the Blue Devils. He saved 35 shots. Christian Wong-Ramos manned the net for Trine, collecting 28 saves.

Pregame ceremonies honored Tanner Kahlau (Mountain Top, Pa.) who passed away last year. His family was awarded his degree posthumously before the game.

The Devils head to Morrisville State next Saturday.