Finalists announced for the Claudette Sorel Piano Competition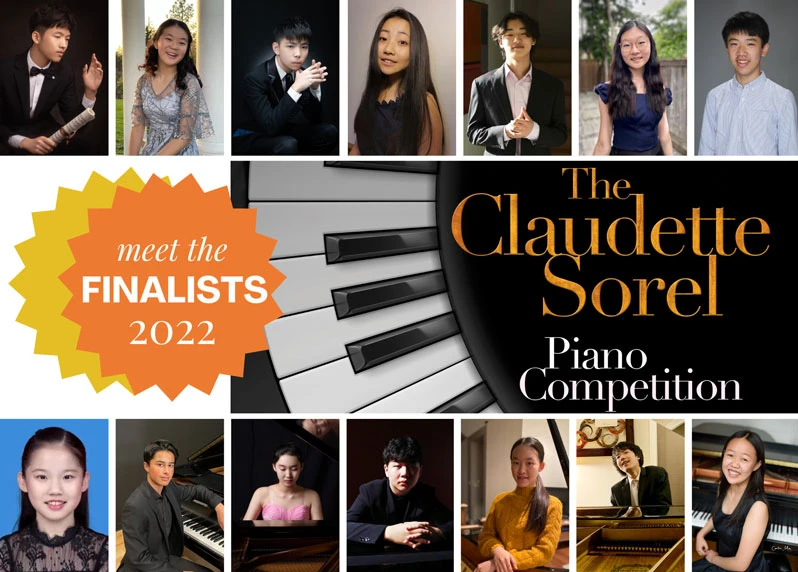 The SUNY Fredonia School of Music has announced the Finalists for the 7th Claudette Sorel Piano Competition.
The live Final Round concert will be held on Sunday, Nov. 6, at noon in the Juliet J. Rosch Recital Hall on the SUNY Fredonia campus.
The event is free and open to the public, and a reception will be held immediately following the award ceremony.
"We have intentionally designed our competition to be a uniquely positive and welcoming experience, creating a space for participants to present their creative passion and vision in a nurturing environment," said competition director and School of Music Associate Professor of Piano Eliran Avni.
While many (if not most) other international competitions have rigid repertoire requirements, the Sorel Piano Competition encourages applicants to think outside the box and choose a program that reflects a theme that is meaningful to them.
"This might be a favorite composer or time period, a favorite musical form, or a group of unknown treasures," said Avni. "Whatever they choose, we ask that they provide a short, written statement about the overarching theme of the works."
The Finalists hail from across the U.S., Canada, and China, who will travel to Fredonia to perform their chosen program for a live audience and panel of judges, which includes Dr. Avni, Steven Bianchi, Dr. Alison d'Amato, Dr. Nick Weiser, Dr. Xiting Yang, and Jiyong Kim Mai.
The event will also be live-streamed at www.fredonia.edu/music/live.
Those attending the Final Round will have the opportunity to vote for their favorite for the Audience Choice Award.
Overall cash awards total $8,000, increased from previous years from $4,750. The First Prize is $4,000, with an additional $4,000 of smaller awards available.
The competition is named for pianist and SUNY Distinguished Professor Claudette Sorel, once a faculty member in the School of Music, and is supported by a foundation she established.
"We are thrilled to be able to offer more prize money this year," said Avni. "The Sorel Charitable Organization has been incredibly generous and supportive of what we are doing here at Fredonia, with the competition and with our training. We wouldn't be able to do this without them."
The Sorel Organization intends to create opportunities for women in composition, conducting, piano, voice and film scoring and to keep musical excellence alive while expanding the boundaries for women in music.
For more information about the event, visit online www.fredonia.edu/sorel-piano or email sorelinfo@fredonia.edu
The 14 finalists include:
Jeslyn Cai, 17, from Spokane, Wash., who studies with Dr. Peter Mack and Karlyn Brett. She has won acclaim in over 35 national, and international competitions. She was the first-place winner in the WA-State MTNA and second in National MTNA Duet, as well as first in both Junior/Senior Washington Outstanding Artists. Her most recent accomplishments include top prizes in the World Piano Teacher Association competition in Spain, Grand Prize Virtuoso International Music Competition, Cap Ferret Music Festival in France, Pacific Youth Music Society Piano Competition, American Protégé International Competition of Romantic Music, Steinway Virtual Piano Competition, Arizona Piano Institute Virtual Solo Competition, Bradshaw and Buono International Piano Competition, and the Bellagrande International Music Competition. Her achievements have led her with performances in Carnegie Hall, Berlin Philharmonic Hall, Teatro Studio Borgna in Rome, and the Sallet Cortot in Paris.
Munan Cheng, 15, of San Jose, Calif., who is a junior at Valley Christian High School in San Jose. She currently studies with Dr. Sharon Mann. Munan has been a prize winner of the Celia Mendez Beethoven Competition, Dubois Piano Competition, Princeton Festival Piano Competition, Young Euregion Piano Award, CAPMT Honors Competition, United States International Competition, San Jose International Piano Competition, Los Angeles Young Musician International Competition. Munan attended Music@Menlo and PianoTexas this past summer. She is a member of Young Chamber Musicians in the Bay Area and the Bay Area Youth Music Society, a non-profit community service program.
David Choi, 15, of Los Angeles, who is a ninth grader in Stanford Online High School and Colburn Music Academy, and started piano lessons at age 5. He has won numerous awards in competitions including Second Place in the Edith Knox Performance Competition by Peninsula Symphony Orchestra (2022), Gold Medalist in Vancouver Symphony Orchestra Young Artist Competition (2021), and Junior National winner of MTNA Competition (2021). David made his solo debut in Carnegie Hall at age 6 and his orchestra debut with the Vancouver Symphony Orchestra under maestro Salvador Brotons in 2022. David previously studied with Dr. Alex McDonald, and now is studying with Ms. Hyejin Kim at Colburn Music Academy.
Zhong An Feng, 16, of Hong Kong, who is currently studying at GMC Music Academy with Professor Rizzo Chung. He recently won the Piano Solo - Gold Medal Award of the Open Class at the 74th Hong Kong Schools Music Festival and the first prize of the Open Class of 2022 Hong Kong Children and Youth Piano Contest. He also won prizes at the live and online piano competitions in Hong Kong, Bangkok, New Orleans, Canada, Sweden and Prague. He has performed in Soiree Musique@Plaza 88/Friday Evening Concert which is streamed live on YouTube.
Fanxing Gao, 17, of Guiping City, China, who is studying at Xunzhou High School in Guiping City. Fanxing has loved music since he was a child, and began to learn piano at the age of 6. In 2019, he began to study under Liang Guorong, a young pianist from Guangxi. Under the strict requirements of Liang, the performance level and stage experience of Fanxing has made great progress.
Luyao "Zachary" Guo, 16, of Darien, Conn., who is a young artist of the Artemisia Akademie at Yale School of Music. Zachary won 2022 MSM Precollege Piano Concerto Competition, 2nd (2021) and 1st Prize (2016) in the Piano Teachers' Congress of NY Competition, 3rd Prize in 2019 International Gershwin Piano Competition, and 1st Prize in 2017 American Protégé Piano Competition. He performed Mozart No.23, Beethoven No.1, Grieg Op.16, and Chopin No. 2 with Polish and Italian orchestras. He has attended Piano Texas, Mozarteum Summer Academy, Paderewski Piano Academy, and Perugia Piano Festival, etc., studying with Arie Vardi, Bernd Goetzke, Veda Kaplinsky, Dina Yoffe, Pavlina Dokovska, Ilana Versd.
Megan Lo, 15, of Ontario, Canada, who studies piano with Lang Ning Liu at the Taylor Academy in Toronto. She has worked with many distinguished pianists including Stewart Goodyear, Stephan Sylvestre and Ronan O'Hara in master classes and has attended the Orford Music Academy. Megan was awarded the Grand Prize of the 2022 OMNI Music Competition by The Orchestre Metropolitan of Montreal, 2nd Prize in the Arte International Piano Competition, 2nd Prize in StayHome Young International Piano Competition, and Gold Medal in the Steinway Piano Competition. Other competition credits include top 20 finalists in the International e-Piano Junior Competition, Canada International Piano Competition and the 5th Canadian Chopin Competition.
Zarin Mehta, 15, of Chicago, who has studied piano for 11 years, and is currently taught by Winston Choi and Jeff Panko in Chicago. He has performed with the Chicago Arts Orchestra, WFMT Classical Radio, the North Shore Center for the Performing Arts, and in Grant Park in Chicago. He has been a prize winner in various competitions, including the Steinway Regional Competition, DePaul Concerto Festival, Seattle International Bach Festival, Walgreens National Concerto Competition, and MTNA Competitions. In addition to piano, Zarin plays on an ice hockey team.
Haruki Takeuchi, 16, of Knoxville, Tenn., who was selected as a 2021-2022 scholarship recipient of The Chopin Foundation of The U.S. Also, he was awarded 2nd Place in the 2022 Chopin International Piano Competition Hartford, 1st Prize in the 2022 Tiziano Rossetti International Music Competition, the Winner of the 2021 Pacific International Piano Competition, the Winner of The 2021 Knoxville Symphony Youth Orchestra Concerto Competition, the Winner of the 2021 Music Teachers National Association Southern Division, and the 2021 Music Teachers National Association Finalist; the Winner of the Tennessee Music Teachers Association State Competition in 2019, 2020, and 2021; the Winner of the 2020 Junior Online Piano Competition in Japan, the Winner of the 2019 Memphis International Piano Competition and 2nd Place in The 2020 Pittsburgh International piano Competition.
Xiaozhou Xu, 17, of New York City, who started learning the piano at the age of 5. He attended Manhattan School of Music Pre-College for seven years and is in his fourth year at Juilliard Pre-College. He studies with Julian Martin. Xiaozhou played piano four hands with Lang Lang in 2015 on the 70th Anniversary of the United Nations. In 2018, Xiaozhou's two-piano chamber group was selected by the Chamber Music Society of Lincoln Center to perform at the 23rd Young Ensembles Concert. This summer, Xiaozhou attended the Palmetto International Piano Festival at Erskine College in South Carolina and the Gijón International Piano Festival in Spain.
Yuka Yang, 17, of Germantown, Tenn., who is a senior at Houston High School in Germantown, and has been studying piano for 13 years under the direction of Dr. Artina McCain, and previously, Chenpei Lin. She won numerous piano competitions in the international, national and local levels including Memphis International, Vienna and London Grand Prize Virtuoso Competition, Florida International Piano Festival and Competition. Yuka is also a flute player of the Houston Band as well as the Germantown Youth Symphony.
Natalie Yu, 15, of Ontario, Canada, who is a student at the Phil and Eli Taylor Academy of the Royal Conservatory of Music, studying with Michael Berkovsky. She has won competitions including first prize at the OMFA Provincials and the Unionville, Pickering, and Toronto Music Festivals. Having received the highest Grade 10 piano examination mark across Canada, Natalie received the 2021 RCM National Gold Medal. She has also won 2nd prizes at the Piano Star International Competition and International Music Festival & Competition. Recently, Natalie performed a recital at the Vaughan International Music Festival and in the world premiere of the contemporary opera, "Gould's Wall."
Helaine Zhao, 16, of Irvine, Calif., who was born and raised in Irvine. She started piano lessons at age 5 and currently studies with Rufus Choi. Helaine made her orchestral debut at the age of 10. She performed in various concert halls including Segerstrom Concert Hall, Thayer Hall at Colburn School, The Walt Disney Concert Hall, and the Weill Recital Hall at Carnegie Hall. Most recently, Helaine was named a 2022 National YoungArts Merit winner, 1st Prize winner of MTAC and CAPMT Concerto Competition, and 3rd Prize winner of Arthur Fraser International Piano Competition.
Jingyuan Zheng, 15, of Ardmore, Pa., who loves music, calligraphy and photography. From an early age, she was performing and playing small recitals. In 2013 she won the Shanghai Youth competition Shaanxi divisions, and in the following three years, as well. Jingyuan was studying in the Shanghai Conservatory with Natalia Filippova. In 2019, she participated in the PYPA Philadelphia Young Pianist Festival and really enjoyed performing and collaborating with other musicians. Ms. Zheng previously studied with Hung-Kuan Chen and Tema Blackstone, and is currently studying with Stella Xu.