Finkeldey, Mahoney named 2022 SUNY Online Teaching Ambassadors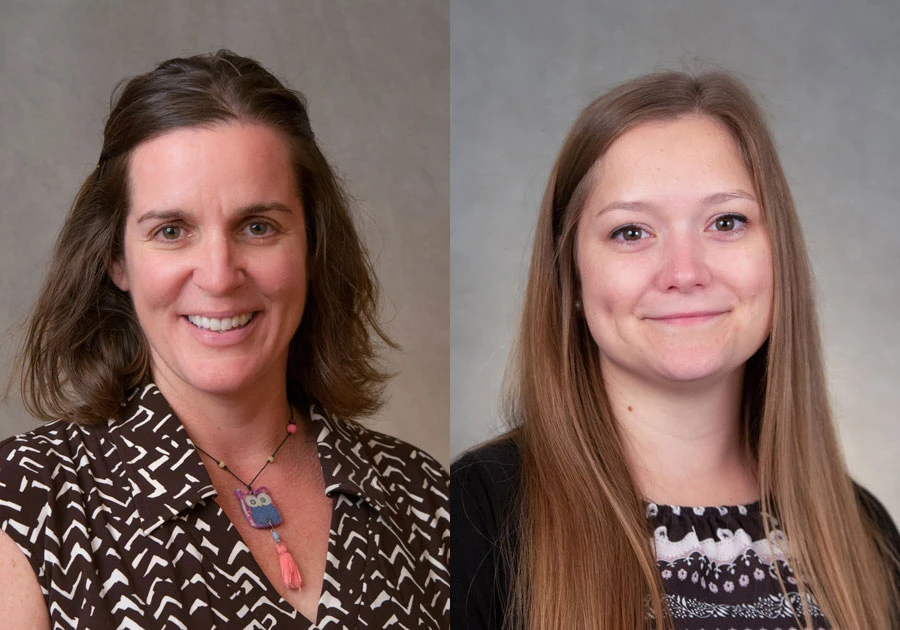 Two SUNY Fredonia faculty members – Associate Professor Kate Mahoney and Assistant Professor Jessica Finkeldey – have been designated 2022 SUNY Online Teaching Ambassadors, an honor that recognizes exemplary online educators who are enthusiastic and effective in online teaching and who are positive and strong advocates for online teaching in SUNY.
Dr. Finkeldey, of the Department of Sociocultural and Justice Sciences, focuses her research on predictors and consequences of antisocial behavior and contact with the criminal justice system. She primarily teaches criminal justice courses that include CRMJ 100: Introduction to Criminal Justice, CRMJ 340: Introduction to Corrections, CRMJ 370: Criminology and CRMJ 361: Capital Punishment. Finkeldey received a Ph.D. from Bowling Green State University.
"When teaching online (asynchronous) courses, I structure the class into 'modules' that guide students through material at their own pace," Finkeldey explained. In most courses, required readings, discussion boards, activities and tests are included in each module.
"This format provides students with a sense of structure and predictability while also keeping them actively engaged with the material," Finkeldey said.
Dr. Mahoney, of the College of Education's graduate TESOL program, conducts research that examines assessment and evaluation of English Language Learner program effectiveness and language policy studies. Teaching interests are in foundations of bilingual education and instruction and assessment methodologies for English language learners.
Mahoney teaches theory, methods, and clinically-based courses that include: EDU 569: Assessment and Evaluation of Emergent Bilingual Learners, EDU 540: Content Area ESL, and EDU 568: Foundations of Bilingual Education. She earned a Ph.D. in Curriculum & Instruction, with a concentration in Bilingual Education, from Arizona State University.
Mahoney was awarded a Title VII Bilingual Education Fellowship, an American Educational Research Association Dissertation Award – in conjunction with the AERA Grants Program, sponsored jointly by the National Science Foundation, National Center for Education Statistics and Open Educational Resources Initiative – and the William T. Hagan Young Scholar/Artist Award at SUNY Fredonia.
With the onset of COVID-19, Mahoney was challenged to model teaching in both face-to-face and remote settings for pre-service teachers. Teaching and learning online has been a major challenge for Mahoney, but she likes such challenges and she says keep her teaching strategies up to date and will continue to dominate her future teaching agendas.
Mahoney believes the quality of her instruction and her students' learning has grown with online learning. Enrollment in the TESOL program has increased, particularly with the enrollment of non-traditional students, so it's generally available to more people. TESOL Online has also removed geographic barriers for students who live outside of the area.
In fact, Mahoney said online learning has been an unexpected highlight of her career.
Finkeldey and Mahoney follow 12 other SUNY Fredonia faculty members who have previously received this honor.