Focus on the patient
Fredonia graduate leads rehabilitation-focused health system
Classmates, professors and friends – those who knew Sonja LaBarbera at Fredonia in the 1990s – inspired the Silver Creek native to "think differently, to work harder and to always remember that people are what matters most."
She never forgot that advice.
More than 20 years later, that challenge is guiding Ms. LaBarbera in her new leadership role as president and CEO of Gaylord Specialty Healthcare, a highly regarded healthcare system that provides a complete continuum of rehab care through technology, research, clinical experience and human compassion.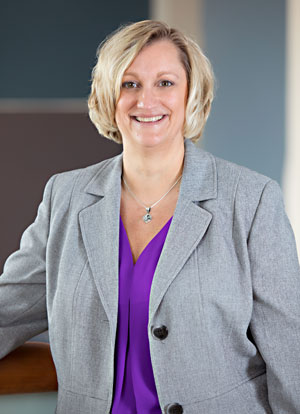 LaBarbera is the first woman appointed to lead Gaylord. She's also the first clinician elevated to that position in four decades and the first internal candidate chosen.
An already distinguished career at Gaylord undoubtedly helped LaBarbera stand out among candidates seeking to lead the 117-year-old organization. In fact, retired CEO George Kyriacou attributes much of Gaylord's success in the last decade to LaBarbera's dynamic personality. "Not only is she full of energy, but she's bursting with ideas and has the rare ability to make things happen quickly and effectively," LaBarbera's predecessor said.
Robert Lyons, who chairs Gaylord's board of directors, believes it's imperative for appoint leaders who can position Gaylord for the future in a positive, cost-effective way that meets patients' needs and delivers integrated care. "Sonja epitomizes someone who can take Gaylord from where it is today to where it needs to be tomorrow," Mr. Lyons said.
Founded as a tuberculosis sanitarium in 1902, Gaylord Specialty Healthcare has become a major player in the healthcare industry in Connecticut. Its 400-acre campus in rural Wallingford is anchored by Gaylord Hospital, a 137-bed specialty hospital, or long-term acute care hospital, which specializes in medical management and rehabilitation for patients who have experienced an acute illness or a traumatic accident.
Patients typically come to Gaylord for additional care after a stay in an Intensive Care Unit or following a hospital discharge. Most are from Connecticut, though the hospital has seen a nearly 70 percent increase in admissions from out-of-state and out-of-country over the last five years.
LaBarbera oversees 800 employees who provide care and rehabilitation for illness or injury related to the brain and nervous system, spine, bones and joints and lungs, among other conditions. Two satellite operations in nearby communities offer physical therapy, orthopedics and sports medicine services.
With two decades of experience in the healthcare industry encompassing clinical operations, strategic planning business development, leadership development and philanthropy, LaBarbera is clearly up to the challenge to lead Gaylord.
"My personal goal is to continue to learn every day and push the boundaries through innovation. In order to stay ahead of the curve, you have to always be anticipating what come next," LaBarbera explained. "As a clinician, I am in a unique position to draw upon my experiences with patients and their families to drive business decisions.
"Keeping the patient at the center of every decision I make, is what matters most to me."
The Silver Creek High School graduate always assumed she would become a school speech pathologist, so enrolling at Fredonia – which LaBarbera said had a "stellar local reputation and an excellent Speech Pathology program" – was an obvious college choice. She received a B.S. in Education: Speech and Hearing Handicapped in 1995 and a M.S. in Speech – Language Pathology a year later.
Through the Henry C. Youngerman Center for Communication Disorders, LaBarbera acquired real-life clinical experience that showed how theory and skills learned in the classroom are practiced and integrated into the learning environment. As an undergraduate, she saw how different clinicians interacted with patients and their families. In the graduate program, LaBarbera participated in the treatment of patients.
"I can remember children that I saw for articulation therapy and adults for dysfluency as well as accent reduction," LaBarbera said. "The experience was of tremendous value as a kick start for my other clinical experiences."
Impressive career trajectory
LaBarbera worked several years in speech language pathology at Middlesex Hospital, located in Middletown, Conn., and was promoted to manager of Inpatient Physical Medicine and Rehabilitation in 2001.
Though not actively looking to make a career move, LaBarbera interviewed for the position of Director of Inpatient Therapy at Gaylord in 2005. She was clearly awe-struck by what she saw. Everyone was working toward a common goal, LaBarbera remembered. The energy was palpable. "I was inspired to become part of this amazing team so that I could be part of the journey to help more people who were at a point in their lives when they needed it most."
During her Gaylord tenure, LaBarbera received a M.S. in Organizational Leadership at Quinnipiac University in Hamden, Conn. She belongs to the Healthcare Financial Management Association and American College of Healthcare Executives, and maintains licenses or certifications from the American Speech and Hearing Association and the state of Connecticut.
LaBarbera served seven years in Inpatient Therapy Services before receiving successive promotions: Senior Director of Therapy and Outpatient Services; Vice President of Operations and Strategy; and Chief Operating Officer, where she played a vital role in increasing system-wide volumes and patient satisfaction scores and more than tripled the size and scope of Gaylord's outpatient physical therapy, orthopedics and sports medicine programs.
By the (very good) numbers
Gaylord's track record is a source of pride. Rates of hospital re-admittances and emergency department experiences are below national averages. The percentage of patients returning home is above the nationwide average. The outpatient service line has grown over 60 percent in the last five years.
From a qualitative perspective, LaBarbera has led an organizational culture change to promote optimal clinical outcomes, patient satisfaction and employee engagement.
"There are many factors that go into Gaylord's results," LaBarbera explained, "but at the center of it all is the employee family. Our staff drives our culture of excellence. I am fortunate to lead an amazing team of experts that supports every aspect of patient care. Everything we do at Gaylord is focused on maximizing functional outcomes for the people we have the privilege of serving."
LaBarbera's primary goal for the not-for-profit organization, the only provider of inpatient and outpatient programs in Connecticut accredited by the Commission on Accreditation of Rehabilitation Facilities, is to increase the number of patients served – currently around 10,000 a year at three locations – as well as programs offered.
"We are looking to expand our physical footprint as well as our clinical footprint by participating in research to advance the field of rehabilitative medicine," she said. Gaylord recently went through a comprehensive strategic planning process that LaBarbera developed and launched as chief operating officer.
LaBarbera remembers SUNY Distinguished Service Professor Mitchell Burkowski as a unique teacher who taught students the art of creative thinking. "Not everything has a straight path and he taught me to think outside the box. I enjoyed his 'non-traditional' approach to learning. He was tremendously supportive."
The importance of being a dynamic presenter was conveyed by Dr. Dennis Perez. "He made learning fun, yet always pushed us to be the best we could be."
Another "tremendous teacher" LaBarbera cherished is Dr. Robert Manzella, retired chair of the former Department of Speech Pathology and Audiology (now Communication Disorders and Sciences) and director of the Youngerman clinic. "He was tough but made us laugh at the same time. He truly cared about each and every student and their individual needs and goals."
Dr. Manzella remembers LaBarbera as "a very good student" and one of the first four M.S. graduates who became hospital administrators. "She was self-motivated, certainly managed her time well and knew where she was going and what she wanted," he said.
Fellow classmate Doug Florkowski remembers LaBarbera being "incredibly personable" and always having a smile on her face. "She related really well to everyone in our department and was a great communicator," added Mr. Florkowski, who is chief executive officer of Crawford Memorial Hospital, Robinson Ill. "I am not surprised at all on her career success."
Attending Fredonia is a family tradition. A sister, Susanne, also received a pair of Fredonia degrees: B.S. in Elementary Education and M.S. in Early Childhood Education. She taught at Silver Creek Elementary School for 17 years. Her father, Vito, received a B.S. in Biology and also taught in the Silver Creek district before opening a restaurant with his brother.
Another sister, Andrea, received a B.S. in Physics and Astronomy at the University of Rochester and a medical degree at the University at Buffalo.
"My fondest memories of my time at Fredonia all center around the people, my classmates, my professors, my friends. The people I met during my college career shaped who I am today and how I see the world," LaBarbera said. "The relationships I made at Fredonia have stood the test of time and I cherish them and our time together at Fredonia."
LaBarbera's parents still reside in Silver Creek, so she makes occasional visits to the campus. "There have been many significant changes to the campus and programming – many advancements since I graduated. I am very proud to see the growth and changes."
"The people I met during my college career shaped who I am today and how I see the world."