Four named as assistants in athletics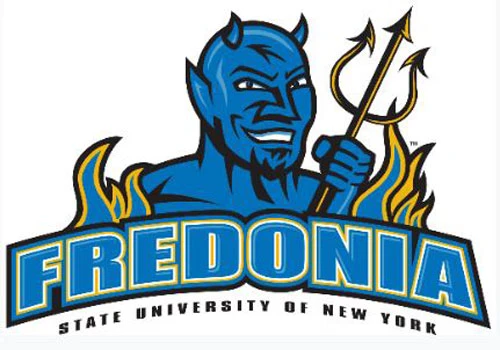 New assistants were named in hockey, men's basketball, track and field/cross country and soccer.
Anthony Walsh was named the Fredonia State men's hockey assistant coach beginning with the 2021-2022 season.

Walsh competed for four years as a member of Yale University's men's varsity hockey team where he led the Bulldogs as the team's sole captain during his senior season. He was awarded the Malcolm G. Chase award by the coaching staff, which is "given to the member of the Yale Hockey Team who, through sportsmanship, spirit, and ability, has best served the finest traditions of Yale Hockey."

Walsh graduated from Yale in the spring of 2019, with a degree in political science.

Following his graduation, Walsh remained with the Bulldogs for the 2019-2020 season where he worked as the program's Director of Hockey Operations. While serving as the Director of Operations for the Bulldogs, he also worked as a skills coach for two Connecticut-based youth hockey programs. With the onset of the pandemic and no season being held for the Bulldogs during the 2020-2021 season, Walsh moved back home to Chicago to pursue a master's degree in Sports Administration from Northwestern University, while also working as the lead USHL scout for Neutral Zone, an amateur scouting company.

Prior to competing for Yale University, Walsh played for Green Bay and Sioux City in the USHL, serving as the captain of the Gamblers for the 2014-2015 season.

Walsh succeeds R.J. Gicewicz who served as Meredith's assistant coach during the 2019-2020 season.
Vincent Shioleno joins Head Coach Sean Smiley on the Fredonia State Men's Basketball coaching staff. An alumnus of Fredonia State, Shioleno returns to his alma mater after more than five years of basketball and collegiate athletics experience.

Shioleno was most recently the Athletic Coordinator of Marketing and Ticketing at Mercyhurst University where he earned his Master's Degree in Organizational Leadership. He spent three seasons as the JV and assistant varsity boys' basketball coach at Chautauqua Lake Central School.

Shioleno's experience includes time as the Director of Athletic Communication at Jamestown Community College, a sports writer for the North East Journal in North East, Pa., as well as a stint in the Sports Information Department at Mercyhurst University.

A native of Ripley, Shioleno is an active member of Rising Coaches, a nationwide basketball coaching and mentorship community, and currently resides in North East, Pa.

Although Smiley is entering his second season, Smiley has not coached an official contest with the Blue Devils, yet, due to the cancelation of last season. Smiley and Shioleno are scheduled to make their debuts on Nov. 9 in Dods Hall when the team kicks off its season vs. Allegheny College.
Michael Kelley, a Fredonia State alumnus, rejoins the Blue Devil Track and Field and Cross Country teams as the assistant coach for both the men and women this fall. While a student-athlete, Kelley specialized in jumps as well as short sprints. He will be coaching those event groups, in addition to the hurdles.

Kelley graduated from Fredonia State in 2011 with a degree in Exercise Science. In 2015 he completed his master's degree from California University of Pennsylvania in Exercise Science with a concentration in Performance Enhancement and Injury Prevention.

Kelley had personal bests in the long jump of 6.70m (22') and triple jump of 14.17m (46'6"). He was a SUNYAC Champion in the triple jump in the 2009 indoor meet, and again in the 2011 outdoor meet. His 14.17m jump was a national meet qualifier and ranked him in the top ten all time in Fredonia State's outdoor records.

He currently lives in Fredonia with his wife Rhianna, a Fredonia State grad, and their three children: Jack, Lucy and Thomas.
Michael Wright stepped off the soccer field and onto the sidelines as he was named the Fredonia State men's soccer assistant coach in the fall of 2021. He was a member of the Blue Devils the previous four years under Head Coach P.J. Gondek. Due to the pandemic, Wright missed out on his senior season. Instead of taking advantage of an extra year of NCAA eligibility, he opted to begin his coaching career at his alma mater.

Wright spent the past four semesters on the Dean's List, graduating with a degree in Sport Management and a minor in Athletic Coaching. He appeared in 39 games as a Blue Devil starting nine of those contests.

Prior to Fredonia State, Wright was First Team All-Catholic and Defensive Player of the Year at St. Joe's in Buffalo.