Fredonia basketball veteran lived the dream, playing for the Globetrotters
Little did Tyrone Clark know when his father took him to Harlem Globetrotter games in Elmira that he would join the world famous team after wrapping up his athletic career at Fredonia.
"I never really thought that I would be a Harlem Globetrotter. I had ambitions to possibly play overseas after Fredonia. I received invitations to attend some try-outs but when the Globetrotters opportunity presented itself, I took advantage of it," Mr. Clark recalled.
At the time, Clark was playing semi-pro basketball in Erie, Pa., and a friend who had played for the Globetrotters suggested that the Globetrotters would be a good fit for Clark. He performed dunks and caught alley-oop passes from the great "Sweet" Lou Dunbar, a former player who now coaches the team, at a private workout in Erie that the Globetrotters arranged.
The Globetrotters were obviously impressed with the State University of New York Athletic Conference (SUNYAC) All-Star Third Team selection; he was invited to join the team a few weeks later to fill the roster spot of an injured player.
For the next five years, Clark toured the world with the Globetrotters. Clark acquired the nickname "Crash" and had countless opportunities to display his dunking ability.
"The Globetrotters are known for their exceptional ball handling and high-flying dunks. I came in primarily focused on dunking but developed a new set of ball handling skills that I never knew existed because of the Harlem Globetrotters," Clark said.
As a youngster, Clark had many opportunities to see the Globetrotters play in his hometown and gather player autographs. One of them was from "Flight Time," who was still playing when Clark joined the team.
It was cool to be playing alongside of Flight Time, Clark recalled, knowing that when he was younger, he asked for his autograph. "Flight Time wasn't too pleased to hear that story when I told him. In a joking manner, he cut me off and said 'please don't tell me anymore. You're making me feel old!'"
What Clark enjoyed the most about being a Globetrotter was the extensive travel.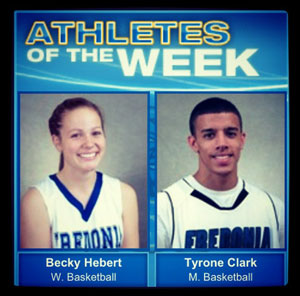 "I was fortunate enough to travel to places that I never imagined that I would go. Traveling and playing basketball as an occupation – to me, nothing beats that," Clark said. When the team had a few days off, Clark was joined by his girlfriend and '14 Fredonia graduate Rebecca Hebert for mini-vacations in whatever city or country the team had their most recent game.
"Many great memories were made between us and I have the Globetrotters to thank for that," Clark reflected.
Travel was also the most challenging part of being a Globetrotter, Clark acknowledged, with seasons typically running from December to April. Mini tours and overseas tours could extend play into June.
"A lot of people don't know how much we travel. We go city to city on a daily basis while sometimes having two games in one day. But it was important to bring your 'A' game every night because we would be in a new city with a new crowd and those people came to see a show."
Clark attended Tompkins Cortland Community College for two years before transferring to Fredonia, where studied Criminal Justice. A starting guard as a junior and senior, Clark led Fredonia in scoring with 528 points (21.1 points per game) in his final year. His career-best 45 points tied the school record for most points in a game.
His fondest memory of playing basketball at Fredonia was the comradery among his teammates. "Those guys made the two years I spent there all worth it. We struggled record-wise, but we built a bond that no one can ever take."
At Fredonia, Clark became very close friends with Hebert, the top player on the women's basketball team. In fact, there was an immediate connection – both wore jersey No. 23. Hebert was also her team's leading scorer, and both collected multiple player-of-the-week honors, oftentimes in the same week. Clark proudly says he was fortunate to see Hebert break the all-time record for most career points – 1,604 – in Fredonia history.
They've been together ever since, moving to Florida after Clark left the Globetrotters and recently becoming engaged.
Today, Clark is a police officer in the St. Petersburg Police Department. Basketball is still a part of his life through recreational leagues and pro-ams, and he closely follows the NBA. "Those who know me know that I am a huge LeBron James fan and watch him whenever I can," he said.
"My biggest takeaway from the Globetrotters was how to remain professional at all times. Learning that and applying it to my current career as a police officer is very beneficial."