Fredonia graduate student and alumni receive awards from statewide student affairs organization
The College Student Personnel Association of New York State has announced the recipients of its 2020 awards, which recognize outstanding student affairs practitioners and scholars in New York State.
Alyssa Stephens, a graduate student at Fredonia and Residence Director of Kasling Hall, was named as the recipient of the Outstanding Graduate Student Award. Ms. Stephens earned her Bachelor of Music degree in Music Education from Fredonia in 2019 and is currently in the Master of Music in Music Education degree program with a concentration in Voice.
In August 2019, shortly after students arrived for the school year, Stephens was searching for a project - a mission that could unite the Resident Assistants with the Hall Council while uplifting the Kasling community. She and her residents decided to transform a Kasling Hall lounge into a Relaxation Room. They launched their Relaxation Room to rave reviews during January 2020 Resident Assistant Training. It is complete with comfortable seating, floor mats, soft lighting, and a stress-relief station featuring coloring books. Last spring, SUNY Fredonia decided to send care packages to all graduating seniors. With over 1,000 packages to prepare, this was a monumental campus task, and much help was needed. In a development that was unsurprising, staff noted that Stephens volunteered with enthusiasm, donning her mask to fill boxes "even as the specter of her graduate course work loomed."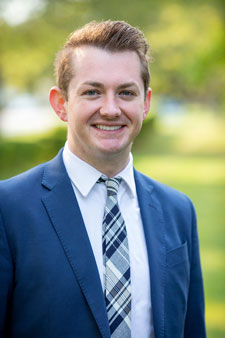 Fredonia alumnus DJ Schier, '11, now serving as Director of Student Affairs at Villa Maria College in Buffalo, was named the winner of the Distinguished Service to the Profession Award.
Alumnus Dr. Casey T. Jakubowski, '98, who is serving as Department Chair of Liberal Arts and General Studies at Hudson Valley Community College, was named the recipient of the Eminence in Mentorship Award.