Fredonia students set to return to Belize teaching experience during J-Term
Students will once again have the opportunity to raise their multicultural competence with the return of the Belize Service Learning Project, following a two-year hiatus due to the COVID-19 pandemic, during J-Term.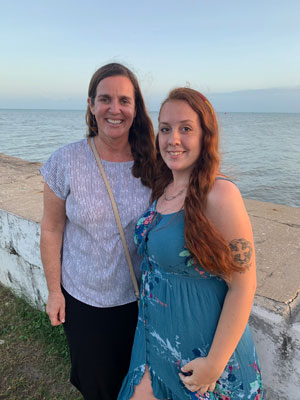 "Some students come back from Belize and say that it's been a life-changing experience for them," said College of Education Professor Kate Mahoney. "Sometimes students haven't had the opportunity to travel much outside of New York state, so this whole experience can be overwhelming, but in a good way."
"Some students come back from Belize and say that it's been a life-changing experience for them." -  College of Education Professor Kate Mahoney
Dr. Mahoney and College of Education adjunct lecturers Kelly Bates and April Walters will lead the student group during the two-week experience in the Central American country that begins on Jan. 7. Megan Lattanzio and Emily Ludden, two graduate students in the College of Education who participated in the Belize program as undergraduates, will assist the leadership team.
Students will gain teaching and classroom management experience at St. Joseph Roman Catholic School, an elementary school in Belize City. Weekdays will be spent in the classroom and weekends learning about the culture and history of Belize through excursions such as visiting Mayan ruins, snorkeling, jungle hikes with Howler monkeys and other exciting things, Mahoney explained.
"They will teach math and English and also bring their own expertise – some will teach music lessons, some will teach dancing lessons," Mahoney explained. Students will deliver at least two lessons every day and assist the lead Belizean teacher. "They will bring their own passion and share it with students through the lessons they teach," she added.
"Above all that, it provides students the opportunity to increase their multicultural competence by learning more about languages and cultures other than their own," Mahoney said.
Students are prepared to write and implement lesson plans and learn about Belizean culture and languages spoken there, such as Kriol and Garifuna, in the fall semester.
Mahoney, who teaches in the College of Education's TESOL (Teaching English to Speakers of Other Languages) program, has participated in five Belize Service Learning Projects and was a high school mathematics teacher in Belize in 1994.
"Despite Belize being a multilingual country, it is the only country in Central America whose official language is English, due to its history as a British colony; this allows SUNY Fredonia students to deliver their instruction in English," Mahoney said.
Students who participate in the credit-bearing Belize Service Learning Project typically major in Education or Communication Disorders and Sciences, but the program is open to all students. The program was founded by former College of Education faculty member Ellie Reddy in 2008. Faculty in the College of Education typically operate the program, though faculty in other disciplines have also participated.
"This Study Abroad course is characterized as a service project, but students also learn so much about teaching, culture, language and life from the Belizean teachers, students and families in the school communities where we work," Mahoney explained.