Fredonia welcomes formal Exercise Science major
High school students aspiring to work in the growing health professions field have an attractive option at Fredonia following formal approval of its B.S. in Exercise Science degree by the New York State Education Department and the State University of New York.
Exercise Science emerged from students requesting to focus on the subject in their Interdisciplinary Studies self-design majors. The B.S. in Exercise Science is now positioned alongside four other degree programs in the Department of Biology: B.S. in Biology, B.S. in Medical Technology, B.S. in Molecular Genetics and B.S. in Biology: Adolescence Education.
"Exercise Science is an area of great interest to students hoping to pursue career opportunities in the health professions and athletic training," said Patricia Astry, associate professor and chair of the Department of Biology. "Many students who want to work in physical therapy, occupational therapy, athletic training or health and wellness or become physician assistants often graduate from programs in Exercise Science," Ms. Astry explained.
"The Biology department has a large number of students in programs who are interested in the health professions, and we felt that Exercise Science would be a strong program to add to the mix," Astry said.
By strategically placing the Exercise Science major in the Department of Biology, students gain a very strong foundation in the biological sciences that include several courses in chemistry, biology and anatomy, explained Department of Biology Associate Professor Todd Backes.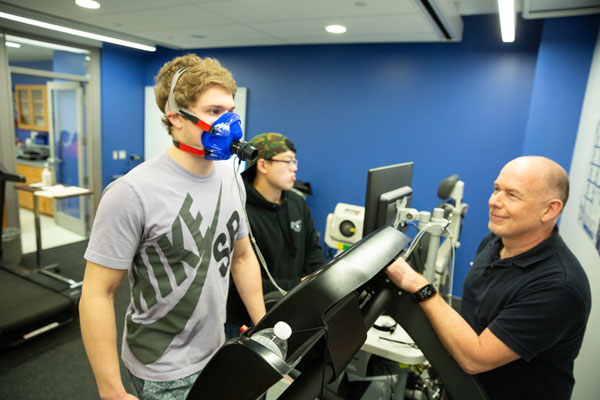 "Our program emphasizes health promotion, human performance, applied physiology, kinesiology, biomechanics and nutrition to broaden and enhance a student's Exercise Science education," said Dr. Backes, who developed the Independent Studies Exercise Science program in 2005 and continues to serve as its coordinator. Students also have numerous opportunities to engage in hands-on activities such as human performance evaluation, internships and faculty mentored research.
The program, based in a 1,400 square-foot suite in the Science Center, houses state-of-the-art equipment – valued at more than $300,000 – to evaluate human performance, human physiological stress response, health assessment, body composition and cardiovascular fitness, along with classroom space.
Enrollment has steadily grown in the Department of Biology, notably in Biology, Medical Technology and Molecular Genetics programs, since the Science Center opened in 2014. More recently there has been an uptick in the number of students choosing to major in Biology: Adolescence Education, which, like some teacher training programs, had been in a cyclical decline.
Astry expects Exercise Science will ultimately enroll 100 students and contribute to further enrollment increases in the Department of Biology, already one of the campus' largest academic departments. In fact, the number of incoming students enrolling in biology programs has doubled – to more than 100 students – in the last 15 years, Astry reported.
The Exercise Science major at Fredonia can serve as a stepping stone to a career or graduate school. The degree can open doors to an entry-level position in athletic training or health, wellness or cardiac rehabilitation in a hospital setting. Graduates are also well positioned to pursue advanced studies leading to master's degrees in physician assistant, occupational therapy, physical therapy and athletic training or enroll in doctoral programs. Students with master's degrees can work at the corporate level, where they may design health and wellness programs for large companies, or become athletic trainers for NCAA Division I athletic programs or professional sports teams.
"Exercise Science majors will be prepared to enter an occupational field that is in high demand and expected to grow for the foreseeable future. Graduates of the Exercise Science program are expected to be competitive applicants for professional and graduate schools," Backes said.
Job prospects in the health professions are projected to remain strong as people become increasingly health conscious and an aging population seeks a better quality of life. Employment in healthcare occupations is expected to grow 18 percent from 2016 to 2026, creating about 2.4 million new jobs, according to the U.S. Bureau of Labor Statistics.