Fredonia's Sydney Buchko named SUNYAC Defensive Athlete of the Week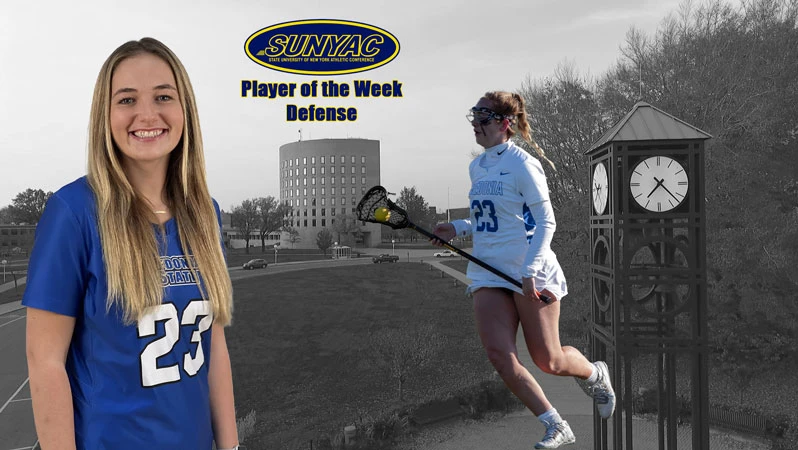 The SUNYAC has chosen Oswego's Sela Wiley and Fredonia's Sydney Buchko as this week's Women's Lacrosse Offensive and Defensive Athletes of the Week, respectively.
Wiley had 12 points in two games against St. John Fisher University and Grove City College. Wiley concluded the week with an even six goals and six assists. The Cheshire, Connecticut native also contributed heavily to the possession of the Lakers this week with 12 ground balls, seven draw controls and seven caused turnovers. Wiley finished with 13 shots, 10 of them on goal for a shots on goal percentage of 76.9%. Wiley currently leads the conference in ground balls and caused turnovers (15), she is third in the conference in points (29) as well as shots (40), fourth in shots on goal (29) and fifth in shots on goal percentage (minimum 20 attempts).
Buchko had a pair of outstanding performances in Fredonia State's two games this week. In a narrow loss to Nazareth, she had 11 draw controls. The midfielder also had three goals and an assist. In an 18-3 win over Ohio Northern, Buchko collected eight draw controls, two caused turnovers, and had five ground balls. She added two goals and an assist. The Devils improved to 5-2 after going 1-1 this week. In Buchko's two games, she had 19 draw controls, five ground balls, two caused turnovers, and accounted for seven points with five goals and two assists.