Geology major O'Leary honored with first place at BAPG Scholarship Night
Sarah O'Leary, a senior in the Department of Geology and Environmental Sciences majoring in Geology with a minor in Chemistry from Athens, N.Y., was recognized with first place at the 2022 Buffalo Association of Professional Geologists' (BAPG) Geology Scholarship Night held at Classics V in Amherst, N.Y., on Nov. 16.
Ms. O'Leary presented her research project, "Metamorphic Conditions of a Garnet-Bearing Gneiss from the High-Pressure Belt, Western Grenville Province." The presentation was based on her research project on a garnet-bearing gneiss from southern Ontario, supervised by Department of Geology and Environmental Sciences Assistant Professor Wentao Cao.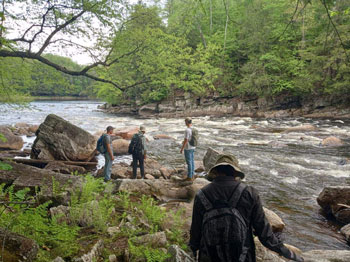 In her project, O'Leary documented microscopic petrographic textures using a polarizing light microscope and scanning electron microscope and interpreted them as former melt-mineral interface and crystalized melt. She utilized thermodynamic modeling on the bulk rock, and retrieved peak equilibrium pressure-temperature conditions at ~1.5 GPa and ~700 °C within the suprasolidus conditions of the modeled phase equilibrium diagrams.
The study confirms the finding of previous research that the Grenville mountain belt was a hot orogen, with its lower crust partially melted, which may have facilitated the exhumation process.
O'Leary started her research project as a sophomore. Her early participation and years-long project have allowed O'Leary to conduct the in-depth petrological project from petrographic documentation to mineral chemistry and thermodynamic modeling.
Attending the BAPG event was a "great experience," O'Leary said. "I enjoyed meeting other geologists and talking to other people in the field." She also mentioned that "it's a good opportunity to present research work and share what you've accomplished."
O'Leary's project was funded in part through the generous support of the Costello Interplay Award and the Phyllis and Lawrence Patrie Endowment for the Sciences, both established through the Fredonia College Foundation.
The Buffalo Association of Professional Geologists was founded in 1985 to strengthen and advance the geological sciences. It is an organization all about fostering geologic knowledge within the western New York region and beyond, according to the BAPG website.