Get ready for spring planting with Reed Library's new seed library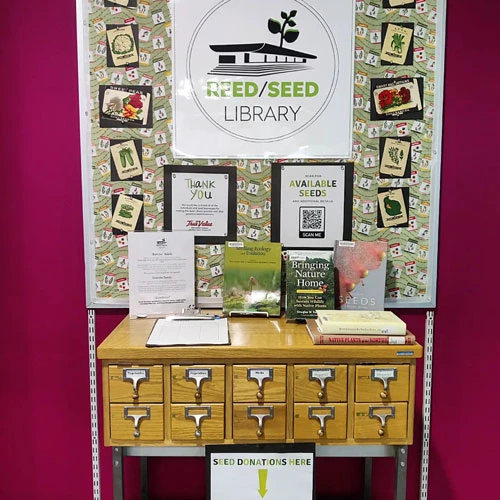 With spring just around the corner, Reed Library has launched its new Reed/Seed Library to provide students, faculty and staff, as well as community members, with access to seeds to grow healthy fruit and vegetables and promote biodiversity.
Seed libraries are also closely associated with seed saving, which is the practice of preserving seeds to be planted in the next season, explained Christina Hilburger, research and information literacy services librarian. Seeds are organized in an old-style card catalogue cabinet and can be picked up from the Reed/Seed Library display located near the library's main entrance.
Herbs and flower seeds are also included in the seed library.
"Borrowers" are encouraged to save seeds from their harvest, Ms. Hilburger noted. "If you are able to do so, please consider donating them back to the seed library for others to plant the following season," she said. This practice is encouraged, but not required.
To make a seed donation, please place seeds in the container located under the Seed Library card catalog cabinet. Please include a note with any details about the seeds being donated, including plant type, specific varieties, harvest date, any special details (organic, heirloom, etc.,) and an optional donor name.
For a list of available seeds and additional information, please visit online