Greek Life students conduct successful village cleanup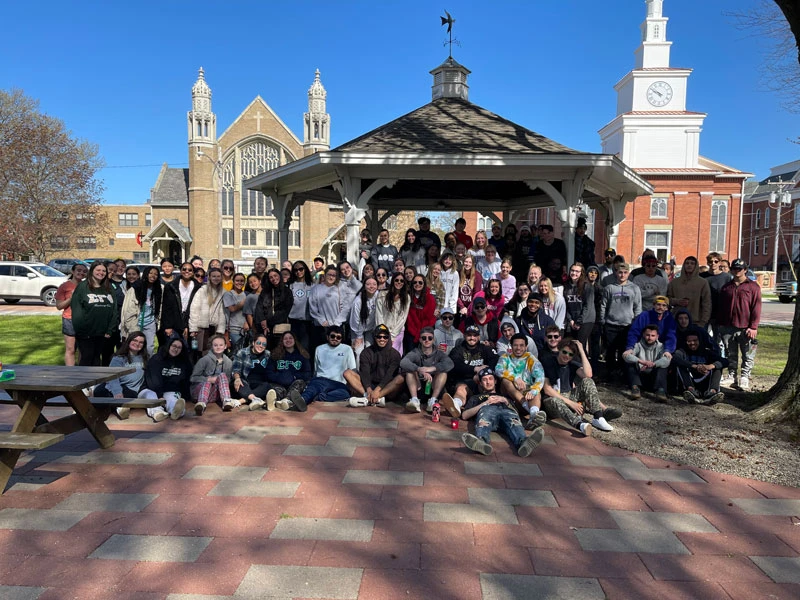 About 100 students – all members of Greek organizations at SUNY Fredonia – literally made a clean sweep of downtown Fredonia and surrounding areas, gathering trash and litter along streets on Sunday morning, May 8.
Members of six sororities and fraternities collected trash in Barker Commons and parking lots and along several nearby village streets, including parts of Main, Eagle and Temple, and also in the Canadaway Creek area near West Main Street.
Enough beverage cans and bottles, garbage, cardboard and food wrappers were gathered to fill some 50 garbage bags that were placed in a dumpster provided by the village for the clean-up, said Andrea Vélez-Davis, president of Sigma Gamma Phi. The task was completed in about an hour, she noted.
Other participating sororities included Delta Phi Epsilon and Sigma Kappa; fraternities were Kappa Sigma, Sigma Phi Epsilon and Delta Chi.
The event was initiated in 2017 to clean up village streets following a weekend of events, said Ms. Velez-Davis, a junior from Puerto Rico majoring in Communications: Video Production and Communications: Journalism. It was not held during 2020 and 2021 due to the coronavirus pandemic.