Hillman Opera tradition continues on grand scale with Massenet's 'Cendrillon'
The Hillman Opera production of Jules Massenet's "Cendrillon" continues the tradition of presenting a grand event on a grand scale at Fredonia - almost 140 people are involved in this season's production.
Presented by the Fredonia School of Music in collaboration with and the Fredonia Department of Theatre and Dance, "Cendrillon" runs from Nov. 15 to 17 in the Robert W. Marvel Theatre.
Show times are 7:30 p.m. on Friday, Nov. 15 and Saturday, Nov. 16, with a 2 p.m. matinée on Sunday, Nov. 17.
Tickets are available through the Fredonia Ticket Office at the Williams Center, by phone at 673-3501 or online
Dr. Robert Strauss is the producer, Dr. David Rudge is the music director/conductor and Dr. Nestor Goldsmith is the stage director. Anthony Alterio serves as choreographer.
Dr. Strauss said there are approximately 50 cast members, a 40-piece orchestra, a 25-member crew and a production team of 20, as well as support from other School of Music and Department of Theatre and Dance faculty and students.
"'Cendrillon' has really beautiful music and, with the number of characters featured, showcases a lot of beautiful singing," the Strauss noted. "The story will be familiar to most audience members, since it's a telling of the Cinderella story."
Strauss explained the Hillman production "focuses on both the Prince and Cinderella, who want to break free from what society expects of them."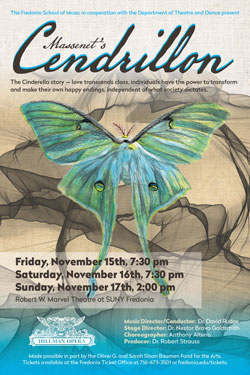 The Hillman production will feature a set and costumes created in house. Hyla Stellhorn is designing both the set and props while Jessica Lustig is creating the costumes.
"The set is going to be magical and malleable, the costumes elegant and lush, and lighting evocative and, well, illuminating," Strauss said. "I hope audience will enjoy all the aspects mentioned above ̶ coming in with the familiarity of the story and leaving with a new favorite piece of lyric theatre ̶ an opera by Massenet."
The Hillman production will be presented in French with English supertitles.
"Cendrillon" is sponsored by Gugino and Ryel Financial as part of the Lake Shore Savings Season. The production is also made possible in part by support from the Oliver G. and Sarah Sloan Bauman Fund for the Arts administered by the Commuity Foundation for Greater Buffalo. Celebrating its centennial year in 2019, the Community Foundation for Greater Buffalo was established in 1919 to enhance and encourage long-term philanthropy in the Western New York community. A 501 (c)(3) organization, the Community Foundation's mission is: Connecting people, ideas and resources to improve lives in Western New York. For 100 years the Community Foundation has made the most of the generosity of individuals, families, foundations and organizations who entrust charitable assets to the Community Foundation's care. Learn more online.