Holcomb inducted into American Bandmasters Association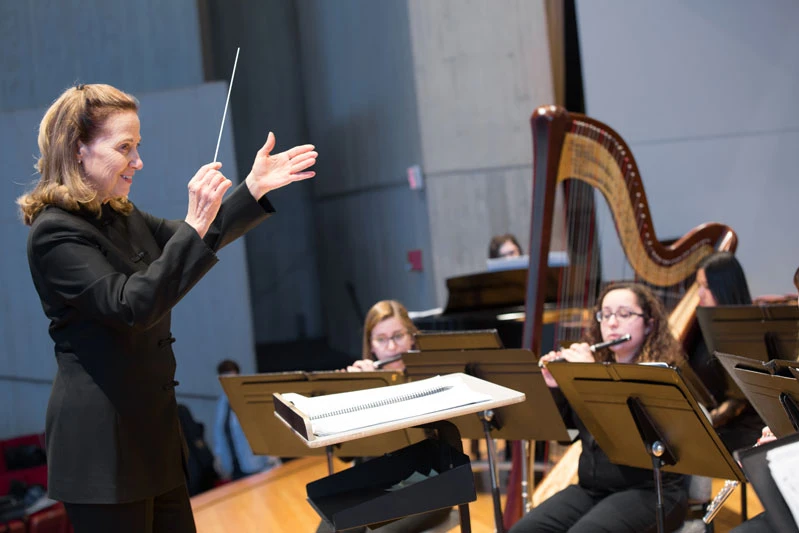 Dr. Paula Holcomb, who serves as Director of Bands at the State University of New York at Fredonia, has been inducted into the American Bandmasters Association, a prestigious organization that recognizes significant accomplishments and contributions of its members to the advancement of the wind ensemble and its literature.
The current membership comprises fewer than 300 band conductors and composers in the United States and Canada, as well 80 associate members drawn from music businesses and corporations that provide significant services to bands and the publication of band music. Membership – by invitation only for band conductors and composers – is considered a great honor and is only offered to leaders in the profession.
This past spring, Dr. Holcomb also served as guest conductor of the University of Illinois Wind Symphony, Western/Northwestern College Band Directors National Association Intercollegiate Honor Band in Seattle, Wash., Drake University Honor Band and clinician for Orchard Park (N.Y.) High School bands.
In addition, Holcomb conducted the world premiere of "Carnival," by Augusta Read Thomas, a finalist for a Pulitzer Prize and University of Chicago professor of Composition, that featured Nadina Mackie Jackson, bassoonist, and the Fredonia Wind Ensemble. The work was commissioned by SUNY Fredonia with support from a Sorel Medallion in Recording grant and the Carnahan Jackson Fund for the Humanities, both through the Fredonia College Foundation, as well as a Sigma Alpha Iota Project Grant.