Holiday choral concert on Dec. 3 to be recorded for public television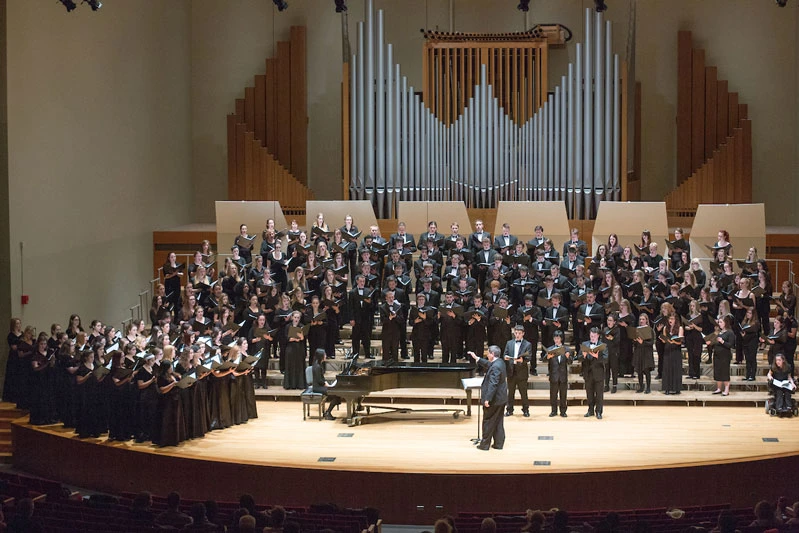 Plan to join the choral ensembles at the Fredonia School of Music for their annual "Sounds of the Holidays" concert in King Concert Hall at SUNY Fredonia on Saturday, Dec. 3 at 8 p.m.
Ensembles to be featured include the Camerata, Chamber Choir and College Choir. The event will be recorded for future broadcast on WNED PBS, and audience members are encouraged to wear their seasonal finest.
The concert is free and has become a beloved seasonal tradition in the area. Traditional holiday seasonal tunes "Silent Night" and "Deck the Halls," and audience favorites including "Go Tell it on the Mountain" and "Have Yourself a Merry Little Christmas," will be included along with newer classics such as Vince Guaraldi's "Christmas Time is Here" from the well-known television special, "A Charlie Brown Christmas."
Soloists and featured artists will include Alyssa Santiago, a member of the Camerata and a junior Music Therapy major from Spring Glen, in "Coventry," by B.E. Boykin; Erin Alexander from North Kingstown, R.I., a teaching assistant and second-year Master of Music in choral conducting graduate student of Dr. Huff's, conducting the Camerata in "Hail Christmas Day;" and senior Music Education major Abigail "Abby" Brudz, a member of the Chamber Choir from Lancaster, N.Y., who will be a soloist for "Go Tell It on the Mountain." Instrumental soloists included Dr. Wildy Zumwalt on saxophone and Dr. Andrew Seigel on clarinet, and the choral groups were conducted by Lecturer Brent Weber, Dr. Adam Luebke and Dr. Vernon Huff. They were accompanied on piano by Chia-Yu Yeh, rehearsal pianist; I-Fei Chen and Mikyung Kim.
Dates of the broadcast on WNED include Tuesday, Dec. 20 at 9 p.m., Thursday, Dec. 22 at 1:00 a.m., and Saturday, Dec. 24 at 5:05 p.m.